Affiliate Disclaimer: Some of the links on this site are affiliate links. This means we may earn a commission if you click on the link and make a purchase.
Last Updated on August 18, 2023 by Marc Edwards
I love to pack and carry as few things as possible whenever I travel. And as much as I do not like to, I always bring along a couple of portable travel surge protectors. I ordered my very first one when my costly video recorder got fried during a stormy night in a hotel overseas.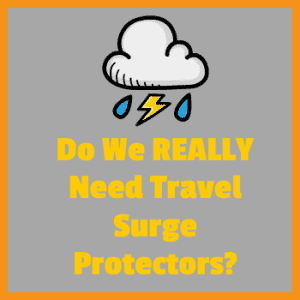 I was on a business trip. Buying a surge protection device to safeguard my electronics was the last thing on my mind.
Hoping for a miracle, I brought my dead video recorder to a repair shop the next morning. The technician told me my once-alive video recording device is gone for good – most likely victimized by a strong power spike.
I knew it, it must be the nasty thunderstorm.
After doing a fair bit of research, I order one online that very day.
Since then, I have never had any of my electrical possessions fried (fingers crossed).
My travel essentials now include a couple of lightweight travel surge protection devices. They are my trustworthy travel companion to help safeguard my increasing number of electrical gadgets.
I follow a basic list of selection criteria whenever I shop for a portable surge protector.
The list below may come in handy if you happen to be looking for one.
Getting the best travel surge protector need not have to come with a high price tag. All you need is time, patience, and read lots of reviews to find the best one that fits your need.
Quick Overview
How to Choose a Travel Surge Protector – 10 Essential Requirements
Buying Guide
Decent Joule Ratings – This is the first thing I look for when I shop for surge protectors. Whether it is for clients, home, office, or for travel. I always want my surge protectors to last as long as they possibly could. Every power surge or spike that they shield against depletes away part of their available lifespan (joule ratings). When the joule rating runs out, replacement is inevitable. When shopping for one that you can bring along everywhere you go, get one that comes with at least 600 joules.
Portability – It is definitely worth the effort and time to source a portable surge protector that can easily fit into the storage compartment of your luggage or backpack. It does not matter if it is a foldable type or one that can be pivoted, so long it caters to your travel needs and the storage that you have, it is a worthy investment for long-term travel needs.
Maximum of 3 – 4 Outlets – 3 is the magic number I look for most of the time. Anything more than that will increase the weight of the surge protection unit. When I need to go out for meetings with clients, I want a lightweight surge protection device that will not weigh me down. I use it for charging and powering up my phone, smartwatch, and laptop/USB portable hard disks. That's about all I need when I go for an offsite meeting.
Voltage Compatibility – Ensure the surge protector is compatible with the voltage of the countries you'll be visiting. Some surge protectors are designed to work with both 110V and 220V systems.
Size and Weight – This is in sync with the 3-outlet criteria I mentioned earlier. If you do not have many electrical devices in need of charging when you travel, go for lightweight ones that you can conveniently carry about for all your commuting needs.
USB ports – This is a subjective requirement. Not everyone will need USB ports like me who owns tons of electrical gadgets. If you have a lot of USB devices, be sure to get one that comes with USB ports.
Wall Tap/Direct Plug-in – I personally prefer direct plug-in/wall-tap types since they are usually lighter and more compact without power cords. They fit nicely in my backpack whenever I go traveling for both business and personal vacation trips.
Durability – This is not really an important criterion, at least for me. The requirement for durability is subjective and mostly depends on the lifestyle of individuals. I am no adventurer and I do not have small kids with me when I travel. Hence I do not look out for one that fits these criteria. If you have children at home or expect lots of rough handling in between travel, you probably need one that is durable.
Warranty – This is an often neglected criterion by most people. They will usually not think about the warranty period until something goes wrong. Go for at least a 12-month warranty if you are getting a travel-sized surge protection device. Anything less than one year warranty is out of the norm and it says a lot about the company that manufactures it.
Price Tag – Price is my last criterion when I choose which brand and model to go for. Usually, the best surge protection devices that really suit my travel needs are not expensive at all. Having the most expensive travel surge protector does not mean it will fit your travel needs. Always keep an open mind when searching for the one that truly suits your travel style and requirements.
My Review of 5 Best Travel Surge Protectors for 2023

Below is a list of brands and models I currently use and my review for them. I pick them mainly for the fact that they are reasonable joule rating, lightweight, and extremely portable. And most importantly, they are packed with features that fit my increasing need for surge protection.
Our Best Editorial Pick
Accell 3-Outlet Travel Surge Protector Review



This 3-outlet Accell surge protector that comes with an affordable price tag left me a good impression when I know it comes with a folding wall power plug. It fits the bill for my need for easy storage and lightweight portability.
Besides having dual USB ports, this Accell surge protection device offers 612 joules which is a decent amount of surge protection for portable surge protectors.
If you are looking for a durable surge protection device, this one fits the bill. It comes with rugged, impact-resistant housing.
This D080B-011K model is my top recommendation mainly because of its X3 MOV technology. It is able to quickly detect and sense power surges and channel those excessive power to the ground.
This travel-sized surge suppression device comes with a whopping 5 years warranty which is another reason why this portable surge protector is my top recommendation.
The only downside is that both USB ports come with (2.1A, 5V, and 10W shared power). This may not be good enough for people that require fast charging for things like smartwatches and camera batteries.
| | |
| --- | --- |
| Specifications | |
| Weight | 5 oz |
| No. of Outlets | 3 |
| Joules Rating | 612 Joules |
| No. of USB ports | 2 |
| Warranty Period | 5 years |
What We Like
Foldable Wall Plug
Rugged impact-resistant housing
Affordable
X3 MOV Technology
5 year Warranty
What Could be Better
USB 2.1A ports (10W shared power) may not be fast enough for some folks
Outlets are not widely spaced – not suitable for use with big-sized plugs
Amazon Price
eBay Price
Most Budget-friendly Travel Pick
Tripp Lite

SK30USB

Review
This 3 outlet surge protector features a clear greenish diagnostic LED that displays (GROUNDED & PROTECTED) status. This SK30USB surge protector from Tripp Lite is definitely one of my favorites as it is really lightweight at 7.7 ounces.
Its direct plug-in space-saving design has pampered me with hassle-free storage and convenient retrieval. No power cord to meddle and unnecessary entanglements.
You will be glad to know this 540 Joule-rating travel surge protector comes with durable and fire-resistant housing. It is also UL 1449 certified for safety standards. If you are budget-conscious, this is good news for you as this surge protector comes with a budget-friendly price tag and will not cost you a bomb.
This highly portable travel surge protector comes with a pair of USB 2.1A ports. If you are looking for a lightweight surge protection device that comes with a lifetime warranty, this is an excellent model too good to be missed.
| | |
| --- | --- |
| Specifications | |
| Weight | 7.7 oz |
| No. of Outlets | 3 |
| Joules Rating | 540 Joules |
| No. of USB ports | 2 |
| Warranty Period | Limited Lifetime |
What We Like
Space-saving Design
Durable and Fire-resistant Housing
Affordable Price
Lightweight at only 7.7 ounces
Limited Lifetime Warranty
What Could be Better
USB 2.1A ports (10W shared power) may not be fast enough for some folks
Outlets are not widely spaced – not suitable for use with big-sized plugs
Amazon Price
eBay Price
Best Lifespan (1200Joules) Travel Pick
BESTTEN 3-Outlet Portable USB Surge Protector Review
Being lightweight and extremely compact, this mini-surge protector for traveling has been my trustworthy companion for the last 6 months.
This BESTTEN travel surge protector comes with a blue "Protected" LED light that offers peace of mind that your plugged-in devices are in safe hands.
I really like the fact that it comes with four speedy USB ports and each has indicator lights that will turn red during active charging and turn green when the device is fully charged. No more over-charging of your devices anymore. 😉

This device is ETL Listed which means it has been tested and verified by Intertek and is in compliance with accepted national standards.
Despite its small size, this portable surge protector comes with a good 1200 joules surge rating and 110V voltage requirement, definitely a worthy consideration for people looking for a healthy amount of joules.
Moreover, its slim housing fits perfectly in my backpack and I love that the power cord can be kept by coiling it around the housing.
While it is definitely not the cheapest in its category, it is one that I would use for a long time while on the move.
This travel-size surge protector comes with a 12-month warranty and is highly recommended if you have a need to charge up many USB devices on a daily basis.
| | |
| --- | --- |
| Specifications | |
| Weight | 10.4 oz |
| No. of Outlets | 3 |
| Joules Rating | 1200 |
| No. of USB ports | 4 |
| Warranty Period | 12 months |
What We Like
Compact Design
Rugged impact-resistant housing
4 Speedy USB Ports (5VDC/4.2A)
ETL Listed
12-month Warranty
What Could be Better
Outlets are not widely spaced – not suitable for use with big-sized plugs
Amazon Price
Foldable Sleek and Compact Design Travel Pick
360 Electrical 36053-2CA6ES-R2 Review



First off, I have to admit I was drawn to its twin rotating outlets embedded within its sleek curvy housing. This 306 Joules travel surge protector not only has a small compact body but also features a foldable direct plug-in design.
Besides that, it comes equipped with 2 USB ports in addition to 2 LED notification lights.  Green LED color denotes Grounded status and Blue denotes Protected status.
Weighing only a mere 8.8 ounces, this is yet another great travel-size surge protector that will hardly take up any space in your backpack or luggage.
The green grounded light lets you know if the outlet you're using is grounded, and blue light indicates that your device is properly protected. This is a hot item that comes with a limited lifetime warranty and is most of the time sold out. There are 5 outlets and 6 outlets models which you might want to check out if you are keen to get one that comes with more than 2 outlets.
It has an easy-to-fold plug that makes it a perfect surge protection device for people on the go.
| | |
| --- | --- |
| Specifications | |
| Weight | 8.8 oz |
| No. of Outlets | 2 |
| Joules Rating | 306 |
| No. of USB ports | 2 |
| Warranty Period | Limited Lifetime |
What We Like
Space-saving design – twin 360° rotating outlets
Lightweight at only 8.8 ounces
The exterior made of heavy-duty plastic
Very affordable price tag
Dual USB ports at 3.4A power
What Could be Better
This device is most of the time out of stock
Amazon Price
eBay Price
Best Warranty and Wall-mountable Travel Pick
Belkin BZ103050-TVL Review
This Belkin portable surge protection device is not only lightweight at 9.3 ounces but also features a dual-charging USB port.
Its wall-mountable 3-prong swivel plug is a useful bonus feature for people struggling with AC power outlets located in small and tight spaces. Beyond its apparent smart and elegant-looking design, this travel surge suppressor offers damage-resistant housing and has one of the highest surge protection ratings (918 joules) in its class.
If you are traveling to a place with frequent power spikes, current overloads and lightning strikes, this Belkin travel surge protection device will give you peace of mind when you plug in your electrical and USB devices.
These dual-charging USB ports deliver 1 Amp of shared power is barely decent for a small 3 outlet surge protector but if you are using it to charge up small USB devices like smartwatches and Bluetooth earpieces, it is definitely sufficient.
There are also 2.1 Amp and 2.4 Amp options if you need speedier ports.
Having a slimmer body size would have been great for this Belkin travel surge protection unit as it does not really fit nicely in my backpack. Yet its super affordable price and limited lifetime warranty are more than enough to compensate for it. 🙂
| | |
| --- | --- |
| Specifications | |
| Weight | 9.3 oz |
| No. of Outlets | 3 |
| Joules Rating | 918 |
| No. of USB ports | 2 |
| Warranty Period | Limited Lifetime |
What We Like
Wall-mountable 3-prong swivel plug
Healthy joule rating at 918 joules
Damage-resistant housing
Limited Lifetime Warranty
What Could be Better
Dual charging USB ports of 1 Amp is slow
Outlets are not widely spaced – not suitable for use with big-sized plugs
Body size could be slimmer to better fit into backpacks
Amazon Price
eBay Price
When it comes to choosing a surge protector for any sort of traveling, there is really no one-size-fits-all. It boils down to individual preferences and lifestyle needs.
Beyond that, what is really important is bringing along one with us. Especially when we are out and about traveling the world knowing our prized electrical gadgets are being protected whenever a dreadful power surge comes through.