Affiliate Disclaimer: Some of the links on this site are affiliate links. This means we may earn a commission if you click on the link and make a purchase.
Last Updated on September 27, 2023 by Marc Edwards
Tripp Lite TLP1008TEL Surge Suppressor is unlike the typical surge protection devices you find in the market.
Besides having built-in sliding child safety covers and 8-foot long cord, it has a surge suppression rating of 2395 joules.
This amount of joule rating is definitely more than capable of protecting just about any type of appliance, electronic device and equipment you may have both at home and in the office.
What we find most impressive is its fail-safe mode feature – it will automatically cut off power to all connected devices when it is no longer able to protect them against power surges.
With such a "life-saving" feature, it is not hard to imagine that Tripp Lite TLP1008TEL is one of Amazon's top choices when it comes to surge protection.
This feature alone could easily save you a hefty sum of money by protecting all your valuable equipment from being damaged by unexpected power surges.
This versatile surge suppressor also comes with a space-saving right-angle NEMA 5-15P plug and 4 specially designed receptacles for plugging in up to 4 bulky transformer plugs.
Tripp Lite TLP1008TEL also comes with diagnostic LEDs to help provide notification on both the protection and grounding status of the plugged-in devices.
If you have lots of different types of electronic equipment at home and in the office, then the TLP1008TEL surge protector is definitely one of the ideal power surge protection devices you can buy.
If you are looking to protect your TV and network devices like routers and switches that come with different numbers of power outlets, you may want to check out what is listed below:
2-in-1 protection for TEL/TV (Telephone/fax line, TV)
8 Outlets (TEL/TV)
10 Outlets (TEL/TV/NET)
10 Outlets (TEL/TV/NET)
3-in1 protection for TEL/TV/NET (Telephone/fax line, TV and network devices like routers, switches etc)
10 Outlets (TEL/TV/NET)
10 Outlets (TEL/TV/NET)
Tripp Lite TLP1008TEL – What's to Like?
Core Features and Benefits
True Power Surge Protection – FailSafe Mode
Most surge protection devices in the market continue to provide A/C power to all connected devices when it is no longer capable of blocking power surges.
Power surge suppressors will stop blocking power surges when it is damaged or has run out of energy absorption joules.
If you stay in an environment with frequent power surges, do expect the life span of your surge protector to be shorter than you expected.
Unlike most of its counterparts in the market, TLP1008TEL will cut off power to all receptacles when it is no longer able to perform power surge suppression.
In fact, it will trigger a total power shut-off so that all your connected appliances and devices remain safe even if a large power spike strikes unexpectedly.
No more second-guessing if your home appliances and office equipment are still under power surge protection.
Alternatively, if you are a risk-taker and would like a surge suppressor that continues to pass power to all outlets even if it no longer has surge protection ability, then this 12-Outlet Pivot-Plug Power Strip Surge Protector may be something you would like to take a closer look at.
Widely Spaced Out Receptacles
Most power surge protectors come with narrowly spaced-out power outlets that cause bigger plugs to block outlets adjacent to them.
With Tripp Lite's TLP1008TEL and its 4 widely spaced-out receptacles (as seen in the image on the left), bulky transformer plugs will no longer render the outlet next to it unusable.
This is a well-thought-out feature that I am sure you will be glad to have.
Built-in Diagnostic LEDs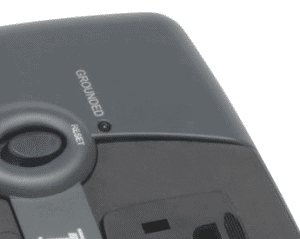 These days, it would be rare to find surge suppressors that do not come with diagnostic functions.
That said, Tripp Lite's TLP1008TEL has diagnostic LEDs that light up upon surge suppressor damage and the grounding status of the electrical outlet that's going to feed power to the power surge protection device.
The LED will not light up if the electrical outlet is improperly grounded (refer to the image on the left).
Always ensure that you plug your surge protector into a properly grounded electrical outlet.
The UN-grounded power outlet may cause the surge suppressor to lose its capability to protect all the plugged devices.
Always call in an electrician if you think there may be a wiring problem with the power outlet.
Improper grounding may pose a risk to your valuable plugged-in devices and more importantly, safety (fire hazard).

High Energy Absorption Rating/ Low Clamping Voltage Rating
Tripp Lite's TLP1008TEL's high energy absorption rating of 2395 and low clamping voltage rating of 150 could only mean one thing.
It has excellent surge protection capability for all types of commonly used home appliances and devices like home theater systems, personal computers, laptops, office equipment, and connected peripheral devices like printers and Internet routers.
Built-in 15 Amp Circuit Breaker (Re-settable)
We really like having this useful feature as it would do an instantaneous A/C power shut-down to the TLP1008TEL in the event that the connected equipment load is drawing too much power.
Doing this will help avoid circuit overload which could be hazardous.
Built-in Sliding Safety Covers
Just like most surge protection devices these days, TLP1008TEL does come with a sliding safety cover to help keep out dust and curious little fingers out of the 10 receptacles.
Built-in Tel/DSL Modem/Fax Splitter
To prevent power surges from damaging connected equipment, TLP1008TEL comes built-in with a splitter for Tel/DSL Modem and Fax. A 6-foot telephone cord comes included in the box.
Lifetime Warranty and $150,000 Lifetime Insurance
This surge protector device does come with a $150,000 Lifetime Insurance coverage for all your connected appliances and equipment. These are guaranteed lifetime protection against surge damages.
===
Tripp Lite 10 Outlet Surge Protector Power Strip TLP1008TEL)
Certified to meet strict UL standards (UL 1449 4th Edition; File E89439; Series AG-0016; Updated 11-08-2017)

2395-joule surge protection rating – More joules mean more protection!

EMI/RFI noise filtering protects against outside interference

Resettable circuit breaker protects against overloads

RJ11 jacks protect against phone line surges
Check Price
Our 2023 Review of Tripp Lite TLP1008TEL

Tripp Lite TLP1008TEL 10 Outlet Surge Protector
Tripp Lite TLP1008TEL is easily one of those value for money surge protector you can find in the market place. If you are someone who has valuable appliance and equipment at home and in the office, TLP1008TEL should be TOP in your shopping list.
Joule Surge Suppression Rating
9
Built-in 15 Amp Circuit Breaker (Resettable)
9.5
Built-in Sliding Safety Covers
8.5
Shuts down power to all outlets when surge protection capability is lost
10
PROS
Failsafe mode - Shuts down power to all outlets when surge protection capability is lost
2395 joule surge suppression rating
Built-in Tel/DSL Modem/Fax Splitter
Built-in 15 Amp Circuit Breaker (Resettable)
Built-in Tel/DSL Modem/Fax Splitter
Lifetime Warranty and $150,000 Lifetime Insurance
CONS
Plugging into some receptacles require some force
Existing Buyers Review
By and large, the majority of  TLP1008TEL buyers are pretty happy and satisfied with their purchase and have had very minor complaints recently as Tripp Lite provides continuous improvements to their product lines.
Minor Flaws – What to Expect
However, feedback mentions that some of the outlet sockets are a little bit too tight and little force is required to plug devices in.
While this does not happen to every unit, it is something you should keep in mind while considering TLP1008TEL.
This surge protector does not come with certain features that some people may not need.
Hence TLP1008TEL may not be for you if you are someone who will need features like USB-C ports, and programmable timer functions.
It is definitely not a smart surge protector in any sense but it does a great job of protecting your connected devices.
Check out Why This 10 outlets TLP1008TEL Surge Protector has such Glowing Reviews in Amazon
Tripp Lite Surge Protector with Long AC Power Cord
Tripp Lite TLP825
If you happen to be
complaining about why most power cords of surge protectors are not long enough for connecting devices over an extended distance, you will be glad to know that this Tripp Lite surge protection model (
T

LP825
) that comes with a whopping AC power cord of 25ft. Yes, you read that right, it is a 25-foot cord.
Besides having a long AC power cord, it also comes with a healthy joules rating of 1440, which conforms with the UL1449 Safety Standards. Tripp Lite TLP825 also comes with (fail-safe mode feature) an automatic shutoff capability that cuts power to all its outlets when its ability to protect against power surge is lost.
Besides having a 25ft. cord, the power cord comes with a right-angle NEMA 5-15P flat plug and has keyhole slots for wall-mounting ability. Similar to TLP1008TEL, it does come with 3 AC outlets designed for bulky transformer plugs.
Price-wise it is a little bit more expensive by a few bucks but it is definitely worth having a surge protector with a long power cord in the house to connect up those distant and hard-to-reach outlets.
Check Price of Tripp Lite TLP825 Here
There is a video on the Tripp Lite TLP825 showcasing its 25 ft. cord.
Who Should Buy Tripp Lite TLP1008TEL?
Besides having commonly found features like diagnostic LEDs, high surge suppression rating, and right-angle NEMA 5-15P plug, TLP1008TEL also comes with a fail-safe mode feature.
It means that the surge protection device will trigger an auto power shut-off to all outlets when it loses its ability to protect all connected devices against power surges.
If you have lots of high-value electronic devices or appliances that you cannot risk having damaged by power spikes, then Tripp Lite TLP1008TEL is probably the best deal for you in terms of price and its surge protection capability.
Who Shouldn't Buy It?
We do understand that not everyone appreciates losing power to all plugged-in devices when their surge suppressor is no longer in 'protective mode' similar to what TLP1008TEL does.
This is especially true when you have network devices that you need to run 7 by 24. E.g. security cameras, Internet routers, etc. You definitely do not want a security camera to shut down unexpectedly when the surge protector loses its ability to protect your plugged-in device from power surges.
If you do not like having such a fail-safe mode feature and would like a continuous power supply to all outlets even if the surge protector has lost the surge protection ability, then you probably should NOT buy this.
Instead, we would strongly recommend that you take a look at this power surge protector device from Belkin which only signals with an LED light when it has exhausted its ability to protect your devices against power surges. It will continue to pass the power supply to all power outlets.
Another category of people who should not buy Tripp Lite TLP1008TEL is those with lots of electronic gadgets and home appliances to protect against power transient and power spikes.
If you belong to this category, you may want to consider getting surge protectors with specific functions or simply getting surge protectors that protect the entire house.
These type 2 devices intercept excessive voltage as it enter your house, hence effectively lowering the damaging strength of power surges.
They may be more expensive but when you consider how many sets of point-of-use surge protectors you will have to buy for every room in the house, a whole-house surge suppressor may be a more worthy buy.
Is the Price Reasonable?
Based on the fact that Tripp Lite TLP1008TEL could potentially save you hundreds of dollars (in electronic devices and appliance damage and replacement cost) with its fail-safe mode feature, the price is really a drop in the ocean in our opinion.
Moreover, Tripp Lite TLP1008TEL offers a generous $150,000 lifetime insurance for all connected devices.
Check Out The Latest Price Here
Additional  Tripp Lite TLP1008TEL Information
Important Product information and Specifications
Right-Angled Plug: Yes
Output Watt: 1800W
Input Cord Length: 8 ft
Telephone/DSL Protection: Yes
Network (Ethernet) Protection: No
Voltage compatibility: 120V AC
Frequency compatibility: 50 / 60 Hz
Maximum Surge Amps: 120000
Overload protection: 15A resettable circuit breaker
AC suppression rating (joules): 2395
Clamping Voltage: 150V
Output quantity / Type: 10 NEMA 5-15R
AC Suppression Response Time: less than 1 ns
EMI/RFI Filtering: Up to 40 dB
Transformer accommodation: Supports 4 large transformer plug accessories without covering remaining outlets, accepts up to 8 transformers total
Switches/LEDs/alarms: On/Off power/circuit breaker switch, Auto/Manual switch (green/standard operation), Netbook switch (wattage select), 6 diagnostic LEDs
Unit Dimensions (cm): 30.48 x 13.33 x 5.08
Weight: 2 lbs
Material of construction: Plastic
Certification: UL 1449 3rd Edition (AC Suppression)
UL 1449 Let Through Rating: 400V – UL Verified
Agency approvals: UL 1449, UL 1663, UL497A, FCC Part 68 / Industrie Canada (telecom), RoHS
What Else to Know?
Below is an overview video from showcasing Tripp Lite TLP1008TEL.
Find Out More About Tripp Lite Surge TLP1008TEL
Bottom Line – Should You Get TLP1008TEL?
Tripp Lite TLP1008TEL should be your best choice if you are looking for a surge suppressor with the right price to safeguard your valuable electronic devices and appliances at home or in the office. While it may not be the best surge protector you can possibly buy, it is definitely more than sufficient to protect your prized electronics against unexpected and dreadful power spikes. As I mentioned earlier, if its 8-foot cord is too short for you, you may want to consider TLP825 which comes with a 25-foot power cord.
Its fail-safe mode feature will ensure that all your connected devices are safe from power spikes and lightning strikes even after the surge protector wears out its protection capability.
Tripp Lite TLP1008TEL Frequently Asked Questions
What is the maximum surge Amps of TLP1008TEL?
TLP1008TEL comes with a whopping 120000 maximum surge Amps.
What are the various protection modes that come with TLP1008TEL?
TLP808NETG comes with full normal mode (H-N) and common mode (N-G / H-G) line surge suppression.
What is the measurement for the keyhole slot mounting?
The keyhole slot mounting measurement for TLP1008TEL is 108mm.
Does TLP1008TEL also offer protection for Network and Cable (coaxial)?
No, TLP1008TEL only offers DSL and Phone line surge protection.
– More information on Tripp Lite TLP1008TEL
– Alternative model to consider, read review of Tripp Lite TLP808NETG