Affiliate Disclaimer: Some of the links on this site are affiliate links. This means we may earn a commission if you click on the link and make a purchase.
Last Updated on August 18, 2023 by Marc Edwards
If you are a big fan of eco-friendly environments, the Tripp Lite TLP808NETG surge protector should obviously be one of the shortlisted 'candidates' on your shopping list for power-saving surge suppressors.
It is probably one of the best surge protectors one can get at such a price point.
Computer and laptop owners will love the Netbook switch whereby wattage can be set to correctly match their computing devices.
This ECO-Surge Tripp Lite TLP808NETG suppressor lowers your electrical bill by eliminating phantom loads by shutting off AC power to unused devices and peripherals.
And besides having a super long 8-foot power cord, Tripp Lite TLP808NETG TLP808NETG also features built-in diagnostic capabilities to warn you of potential wiring issues and damage.
For those who will need more power outlets, there is a 12 outlets model to choose from.
Besides that, there is also a 3-in-1 model which protects TEL (phone and fax), TV, and Network (ethernet routers, network devices, etc).
And if you are also a fan of Belkin, you should also check out the review for this 12 outlets surge protection power strip from Belkin.
Most importantly, this reliable surge protector is not at all costly given all the advanced features and benefits that come with it.
Still skeptical?
Take a look at the long list of its core features below and judge it for yourself. 🙂
Tripp Lite TLP808NETG Surge Protector  – What We Like
Core Features and Benefits
Eco-Friendly Power Surge Protection
Have you wondered why your electricity bills are still high even though most of the plugged-in electronic equipment and home appliances are not used?
Well, thanks to phantom load (also known as vampire power or standby power), all your plugged-in electronics and appliances at home are still consuming energy even when you are not at home.
Tripp Lite TLP808NETG comes equipped with 5 power-saving outlets to help reduce your electricity bill by shutting off AC power to connected devices and peripherals when they are not in active use.
How the Phantom Load Elimination Works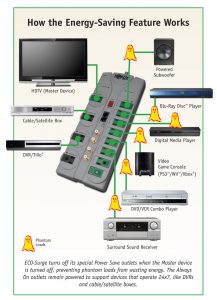 Whenever a device or equipment that is plugged into the "Master" outlet gets turned off, it will cause ECO-Surge to detect and automatically trigger a power shut-off to all the 5 other "Power Save" outlets.
This energy-saving feature will effectively prevent the phantom load from devices connected to the "Power Save" outlets from consuming any further precious AC power.
For example, switching off your television set which is connected to the "Master" outlet will cause Tripp Lite TLP808NETG to automatically turn off the power to all other connected electronic equipment like DVD players, Multimedia Entertainment Systems, speakers and so on which are plugged into the "Power Save" outlets.
This energy-saving feature also saves you the hassle of having to crawl behind or under the TV console to switch off the rest of the connected equipment.
Wish to do the power switching yourself?
No problem, this Tripp Lite TLP808NETG surge protector comes with an Auto/Manual switch.
Switching it to manual mode will prevent the automatic power-saving mode from triggering.
Be careful when it comes to choosing which equipment or electronic devices to plug into the "Power Save" outlets. Devices that need to be constantly on like Cable/Internet Modem or wireless router should NOT be plugged into the "Power Save" outlets. They should be connected to the "Always On" outlets instead.

6 Built-in Diagnostic LEDs
No more second-guessing when Tripp Lite TLP808NETG's ECO-Surge is protecting all your valuable electronic devices.
There are 1 built-in diagnostic LEDs to warn you of any potential wiring or grounding issues from any connected devices and another one for confirmation of active surge protection.
There are also 4 others that help indicate power availability for all 3 types of power outlets.
High Surge Suppression Rating
Not only does Tripp Lite TLP808NETG provides excellent surge protection and performance enhancement for devices like Personal Computers, Audio-Video components, and all other peripheral devices, it also comes with a high suppression rating of 2160 joules and that means your precious electronics are always protected from powerful power spikes and surges.
Do You Really Need Surge Protectors with High Joules Rating?
It has a low clamping voltage rating of just 150 which indicates better protection. Surge protection devices that offer a clamping voltage of more than 400 V is too high.
Full EMI/RFI Filtering
Various electrical and radio sources are known to cause disruptive interference on our AC line and line noise is a common culprit for incremental hardware damage, data corruption, and audio/video performance problems.
This eco-friendly surge protector provides full EMI/RFI filtering of up to 40dB.
Wattage Selectable Netbook Switch
If case you are wondering if Tripp Lite TLP808NETG is compatible with all your computing devices and peripherals, your worries are totally unfounded.
This power-saving surge suppressor comes with a unique Netbook switch (at the back of the panel) which allows you to set the right wattage for all PCs, Laptops, Netbooks, and what-have-you and that makes it 100% compatible with all types of computing devices and electronics.
Peace of Mind Lifetime Warranty
This environmentally friendly surge protection device comes with a $150,000 Lifetime Insurance coverage for all your connected appliances and equipment.
These are guaranteed lifetime protection against surge damages. There is absolutely no need to fill out any forms.
Furthermore, their lifetime product warranty and no-questions-asked replacement policy should provide you with the ultimate peace of mind while your valuable devices are protected from nasty power surges and spikes.
===
Tripp Lite 8 Outlet (5 Energy Saving) Surge Protector Power Strip, 8ft Cord
PROTECT ANY ELECTRONIC DEVICE FROM POWER SURGES & SPIKES: Surge Protector with eight outlets protects your PC, personal computer, laptop, printer, scanner, router, phone, fax, modem, television, lamp or any other home/office electronics from dangerous power surges, spikes & line noise.
Check Price
Our Review of Tripp Lite TLP808NETG Surge Protector

Tripp Lite TLP808NETG Eco-Surge Protector
Tripp Lite ECO-Surge is possibly the best feature-rich eco-friendly surge protector for both home and offices given its reliable power saving features and lifetime insurance and product warranty. Save the environment, your wallet and your electronic devices today with TLP808NETG.
Phantom Load Power Saving Features
9
6 Built-in Diagnostic LEDs
9.5
Wattage Selectable Netbook Switch
10
High Surge Suppression Rating of 2160
8.5
PROS
energy saving : eliminate phantom energy usage then lowers electric bill
features 6 diagnostic LEDs
child Safety Outlet Covers for all sockets
CONS
green sockets are not so well spaced
Some sockets are a little tight when plugging in devices
Ethernet protectors are only up to 100baseT and not Gigabit
Existing Buyers Review
In our research, we found out that most buyers of Tripp Lite TLP808NETG surge protectors are generally happy with their purchase and are satisfied with the surge protection and energy-saving features.
Minor Flaws – What to Expect
Some buyers did voice out that the "Power Save" outlets need to be spaced out a bit more but that's only a very small handful of users who happen to be using legacy power plugs that are huge in size.
Besides that, some do experience socket tightness when plugging in their electronic devices.
Check out Why This Eco-Surge Surge Protector Enjoys Such Great Reviews in Amazon
Who Should Buy it?
With its huge potential to help trim down your monthly electricity bills and being environmentally friendly, this reliable power surge protector is essentially catered for the majority of homeowners and office users.
This is also a must-have for people with lots of peripherals and appliances connected to either their TV or their personal PC or laptop.
Who Shouldn't Buy It?
People with only a couple of electronic devices should obviously NOT get this surge protection device as there are lots of dual or triple outlets surge suppressors in the market.
And if you are looking to protect your entire household against transient surges and power spikes, then it is obvious that you should be looking at whole house surge protection solutions.
Also, if you are a computer geek like me who has to make use of lots and lots of electronic devices on a daily basis, you will definitely need something like TLP1210SATG. This 12 Outlets surge protector has the exact same features but with more power outlets and $250,000 insurance.
Is the Price Reasonable?
The price is totally reasonable when it comes to how much you are likely to save when you start eliminating those power-hungry phantom loads of your devices.
As seen on the chart (right), with this power-saving surge protection device, you can expect to get an annual saving of up to $40 or more.
Check Out The Latest Price Here
Additional Tripp Lite TLP808NETG I
nformation
Important Product information and Specifications
Right Angle Plug: Yes
Voltage compatibility: 120 VAC
Frequency compatibility: 60 Hz
Maximum Surge Amps: 144000
Overload protection: 15-amp circuit breaker
AC suppression rating (joules): 2160
Clamping Voltage: 150
UL1449 Let Through Rating: 330 L-G, 400 L-N, 400 N-G
AC Suppression Response Time: less than 1 ns
EMI/RFI Filtering: Up to 40 dB
Outlet quantity/type: 8 x 5-15R (1 Master, 5 Power Save, 2 Always On)
Signal line protection: RJ45 network/Ethernet jacks (1 set)
Input cord: 8′ Input plug: 5-15P right-angle
Switches/LEDs/alarms: On/Off power/circuit breaker switch, Auto/Manual switch (green/standard operation), Netbook switch (wattage select), 6 diagnostic LEDs
Dimensions (HxWxD): 1.5″ x 4.9″ x 9.5″ Weight: 1.9 lbs
Material of construction: Plastic
Certification: UL 1449 3rd Edition (AC Suppression)
Agency approvals: UL 1449, UL 1663, UL497A, FCC Part 68 / Industrie Canada (telecom), RoHS
What Else to Know about Tripp Lite TLP808NETG?
Below is a video from Tripp Lite showcasing usage of this ECO-Surge suppressor.
Find Out More About Tripp Lite Surge TLP808NETG
Bottom Line – Should You Get Tripp Lite TLP808NETG?
Our team believes that Tripp Lite TLP808NETG Surge Protector is the perfect choice when it comes to protecting your electronics and computing devices at home while helping you cut down the monthly energy bills. And if this model is not good enough for you, we want you to know that Tripp Lite has another excellent 3-in-1 model TLP1008TEL which is as good.
If you are looking for a surge protector that is 100% compatible with all your computing devices, TLP808NETG should easily be one of your top choices.
Our Second Opinion Pick
Bestek MRJ1870KU
If you are having second thoughts after reading our review on TLP808NETG and would like to look at alternative brands which are also eco-friendly, you may want to check out
Bestek MRJ1870KU
which is a surge protector power strip from Bestek which our team highly recommend too. Below is some core features of this Bestek surge protector that is budget-friendly as well.
Bestek MRJ1870KU comes with a 600J surge protection energy rating and 8 AC outlets. In addition to that, it also comes with an awesome 4 x Smart USB Charging ports leveraging on Smart Smart IQ Identification Technology to charge your devices at its fastest speed possible (Total 5V/4.2A/21W).
And just like TLP808NETG, it also comes with a master outlet control system which will help shut down all devices when they are no longer in use. With this feature, your plug-in devices will bid goodbye to Phantom Loads, and with you having a lower electrical bill.
Check Price of Bestek MRJ8004 Here
Tripp Lite TLP808NETG Frequently Asked Questions
How many transformer plugs can be plugged into TLP808NETG?
Tlp808netg comes with 8 AC outlets with enough space for you to plug in 3 transformer plugs without blocking the other 5 AC outlets.
Can I plug 'always on' network appliances like Internet and Wifi routers into this eco-friendly surge protection device?
TLP808NETG comes with 2 'always on' AC power outlets that provide continuous electrical flow to appliances that need to be turned on throughout 24 hours every day.
Can this energy-efficient surge protection device be mounted on the wall?
Yes, this surge suppressor housing comes with keyhole mounting tabs that allow wall-mounting.



– More information on Tripp Lite TLP808NETG