Last Updated on August 18, 2023 by Marc Edwards
John stared blankly at his monitor screen, seemingly at a loss.
Five hours' worth of deep focus, hard work, and ideas gone – 'erased' by a sudden power trip.
5 hours earlier…
John has been working on a sale presentation using his home computer since 3 pm that afternoon- that sale presentation might land him new clients. It was a weekend and he left his laptop in the office.
Just then, an unexpected power trip came by.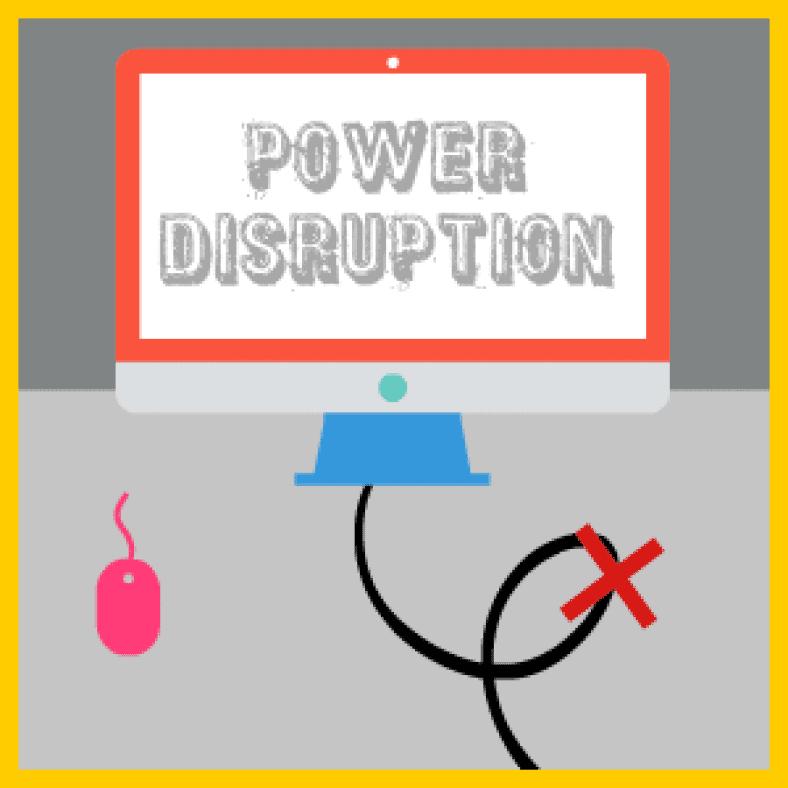 The monitor screen flickers and the computer lost power.
And there he was – back to the last saved copy of his presentation a few hours ago. Why didn't he save his work?
John silently cursed himself.
As he beat himself up while panic attacks slowly engulfed him – he knew he has to redo most parts of the presentation and that could only mean a long night without sleep.
He could not believe his bad luck.
The above scenario is not uncommon.
It has happened to me more than a few times. Unsaved work 'gone' on a home PC whenever blackouts happen. 🙁
We all know electricity is unpredictable. One moment you are happily working on your computer and the next moment, your hours of hard work and unsaved data could be gone or corrupted.
Even if you could auto-save your data, frequent unexpected power trips could cause negative effects and damage to your home computer's internal hardware components.
In the long run, your saved data might even be corrupted due to a faulty hard drive, all thanks to an unexpected power loss.
John could have safeguarded his precious unsaved data and time had he invested in a battery backup surge protector – also known as an uninterruptible power supply (UPS). Battery backup surge protectors serve as lifelines for computing devices that do not have a built-in battery. For example, desktop computers.
Before you rush online and get yourself overwhelmed by the sheer numbers of choices, technical specifications, and models out there, be sure to check out the best picks I have reviewed below.
I have done all the hard work for you – having filtered through, compared, and reviewed a wide variety of UPS battery backup surge protectors – across multiple brands and models.
If you are in a hurry, do check out the comparison tables for the top battery backup surge protection models reviewed and recommended by our team.
[With or without LCD Display, take your pick 👇👇👇]
Weather and electrical conditions differ from place to place. Before you start sourcing for your preferred one, it is important that you know what are your (wattage) needs and the types of battery backup and surge protection device to get.
Do check out the buying tips and essential UPS features below before making your purchase decision. Once you identify your requirements, be sure to check out the respective battery backup surge protector reviews in the next section.
UPS Battery Backup Surge Protector Essential Features

Buying Tips for UPS Surge Protector

Tips on How to Size up Your UPS?
[With LCD Display] Comparison Table of 6 UPS Battery Backup Surge Protectors
| Best Editorial Picks | Model Name | No. of Outlets | Joules Rating | Run Time at Full Load | Our Reviews |
| --- | --- | --- | --- | --- | --- |
| | CyberPower BRG1500AVRLCD Intelligent LCD UPS | 12 | 1500 | 2 mins | Read Review |
| | Panamax MB1000 Battery Backup | 8 | 900 | 3 mins | Read Review |
| | Tripp Lite SMART1200LCD Smart UPS | 8 | 870 | 4 mins | Read Review |
| | APC SMC1000C Sinewave UPS Battery Backup | 8 | 680 | 9 mins | Read Review |
| | CyberPower PR1500LCDN UPS | 8 | 1030 | 4.7 mins | Read Review |
| | APC BX1350M UPS | 10 | 789 | 4 mins | Read Review |
>>Check out UPS Surge Protectors without LCD Display<<
1

CyberPower BRG1500AVRLCD Review
3

Tripp Lite SMART1200LCD Smart UPS Review
4

APC UPS SMC1000C Smart-UPS Review
5

CyberPower PR1500LCDN Review
6

APC BX1350M Back-UPS Pro Review

Non-LCD display UPS surge protectors are usually more affordable and are more suitable for small office and home setup. Refer to the comparison table below for the best 8 Non-LCD Display UPS battery backup surge protection devices I have picked and reviewed.
[Non LCD Display] Comparison Table of 8 Best UPS Battery Backup Surge Protectors
| Best Editorial Picks | Model Name | No. of Outlets | Joules Rating | Full Load Run Time | Our Reviews |
| --- | --- | --- | --- | --- | --- |
| | APC BE650G1 UPS | 8 | 340 | 3 mins @ 390 watts | Read Review |
| | APC BE850M2 UPS | 9 | 354 | 2 mins @ 450 watts | Read Review |
| | CyberPower ST900U UPS | 12 | 890 | 2 mins @ 500 watts | Read Review |
| | Tripp Lite BC500 500VA | 8 | 216 | 1.5 mins @ 260 watts | Read Review |
| | Tripp Lite AVR700U 700VA | 8 | 316 | 2 mins @ 350 watts | Read Review |
| | CyberPower CP800AVR | 8 | 1030 | 1.2 mins @ 450 watts | Read Review |
| | Forza NT-1011D UPS | 6 | 200 | 1 min @ 375 watts | Read Review |
| | Vertiv Liebert PST5-500MT120 | 8 | 316 | 3 mins @ 300 watts | Read Review |
>>Check out UPS Surge Protectors with LCD Display<<
3

CyberPower ST900U 900VA/500W 12 Outlets Standby UPS Review
5

Tripp Lite AVR700U Review
6

CyberPower CP800AVR Review
7

Forza NT-1011D UPS Review
8

Vertiv Liebert PST5 Review