Affiliate Disclaimer: Some of the links on this site are affiliate links. This means we may earn a commission if you click on the link and make a purchase.
Last Updated on August 15, 2023 by Marc Edwards
If you have been shopping for surge protectors that come with USB-C ports, I am sure you will agree with me that it can be challenging to get one that comes with more than 10 outlets plus at least one USB-C port.
I feel your pain.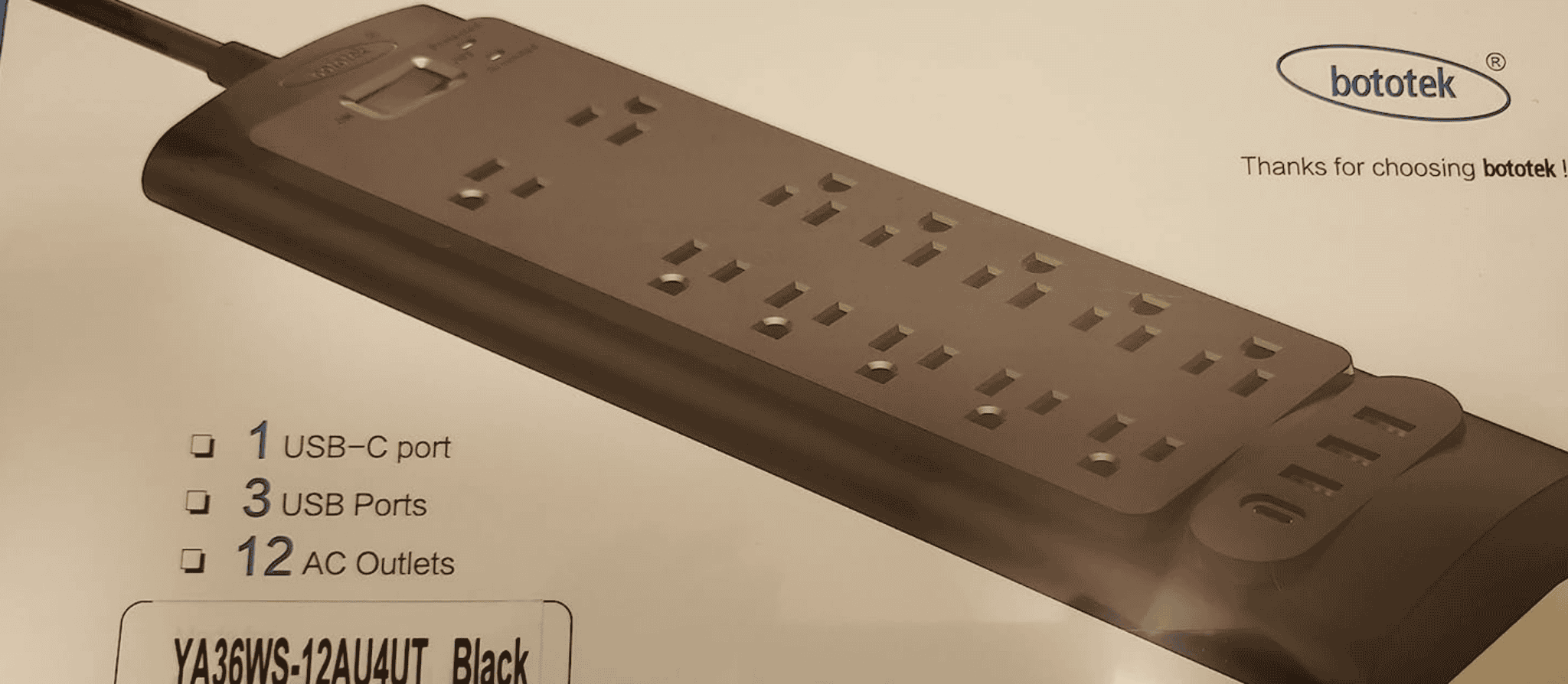 This Bototek surge protector review was made possible because one of my clients bought one to ease the power requirements of his children's gaming consoles and related charging devices at home. I was able to test it (permission from the client) for 2 weeks before I had to hand over everything (including the renovation) to that client.
First Impression – Look and Feel
As I unwrapped the packaging, it was hard not to notice the matte black plastic finish of the exterior which felt smooth to the touch, offering a tactile sensation of quality craftsmanship. Its smooth surface and well-crafted edges gave it a premium feel, further adding to its aesthetic appeal.
Upon inspecting the front of the surge protector, my eyes were drawn to the neat arrangement of the 12 AC outlets and the four USB ports – with two of the AC outlets thoughtfully spaced apart.
This 2980 Joules surge protector weighed a reasonable 1.8 pounds (0.82kg), striking a balance between sturdiness and portability. Its dimension of 13 x 3.9 x 1.1 inches makes it compact yet substantial enough to accommodate multiple devices simultaneously.
Setting up the power strip was a breeze, thanks to the 6-foot heavy-duty cord. It provided ample length to position the power strip in an optimal location while keeping the cable clutter manageable. Just like most power cords from my previous reviews, this one was also sturdy and well-insulated, offering durability and flexibility.
In a Nutshell Review
If having a fast USB charging port is a priority to you, you will want to know that the USB-C port of this Bototek surge protector offers a 20W fast charging capability. Besides the USB-C port, having 3 other USB-A ports offer more charging points for your USB gadgets.
Equipped with 12 AC outlets and 4 USB ports, this versatile surge protector allows you to plug in up to 16 electrical devices, which can be anything from A/V media racks, to entertainment and gaming setups. Might not be enough but having 2 x widely spaced-out outlets that can be utilized for big-sized plugs is better than having none.
If the 24 months of warranty isn't enough for you, at least the wall-mounting of this 2980 surge protector was easy with its 2 plus-shaped mounting holes at the back.
Bototek 12 Outlet Surge Protector
The main selling point of this surge protection power strip lies with its inclusion of one USB-C port (with 3 other USB-A ports) which provides decently fast charging to small-size gadgets like iPhone, gaming consoles and related gadgets. Beyond, the rest of the features are rather commonplace with the exception of having 12 AC outlets and a relatively low price point compared to its counterparts that I have reviewed.
PROS
10 outlets with spaced-out sockets
Decent 2980 Joules
Easy Wall Mounting
3 USB-A ports and one USB-C port
Can potentially charge up to 16 devices
CONS
Some of the AC sockets can be hard to plug in initially
Slight humming noise can be heard occasionally
Check Price
Features We Like
Charge up to 16 Devices
With a total of 12 AC outlets and 4 USB ports (1 USB-C and 3 USB-A), this wall-mountable surge protector offers an expansive charging solution for up to 16 devices. The two widely spaced outlets might not be enough for some folks, but at least it allowed me to connect larger adapters without blocking adjacent sockets. Let's hope Botoek will provide more widely spaced outlets in future upgrades of the product.
Easy Wall Mounting
Besides being wall-mountable, mounting this Bototek Power Strip was relatively easy. With two 'plus' keyhole slots on the back, installing on a wall, desk, or shelf will be a breeze. This feature enhances convenience, particularly in spaces where desktop real estate is limited.
Four USB Ports
I particularly appreciated the USB-C Power Delivery feature designed specifically for the latest iPhone models and gadgets that require fast charging. It provided a decently fast charging experience for my iPad that comes with a USB-C port. The USB-C port also supported Quick Charge 2.0 for a wide range of Android devices. The power delivered by the USB-C port was quite acceptable, allowing my devices to reach optimal battery levels swiftly.
The USB A ports delivered up to 21W of power collectively, and I could charge up most of my USB devices reliably. Having 4 USB ports eliminate the need for multiple adapters and power bricks, providing decluttered workspace as a bonus.
Minor Flaws – What to Expect
I wasn't too happy with the fact that a few AC outlets required me to use some amount of force when plugging in some of my devices for testing. But after a few days, plugging into the same few slots seemed okay.
Not sure if it is only this unit, there was some sort of a soft buzzing noise that emit from the power strip. Not loud enough to distract me but loud enough to raise my eyebrow. If you place it on the floor or behind the shelves, you probably won't even hear it.
Worth Mentioning
In terms of build quality, the power strip is well-designed and compact, with a sleek black color. It has a durable exterior that can withstand external forces, and the fireproof shell is capable of resisting temperatures of up to 1382°F (750°C), maximizing safety. The power strip's dimensions of 13 x 3.9 x 1.1 inches and a weight of 1.8 pounds make it a good candidate for charging up loads of multimedia devices and gaming electronics.
Specification Table
| | |
| --- | --- |
| Bototek Surge Protector | Specification Table |
| Dimensions | 13 x 3.9 x 1.1 inches |
| Net Weight | 1.8 pounds (0.82 kg) |
| No. AC Outlets | 12 |
| Power Cord Length | 6 ft |
| Joule Ratings | 2980 |
| USB Ports | 4 |
| Warranty | 24 months |
Who Should Buy It?
If you're a gaming enthusiast seeking convenience, versatility, and surge protection for your gaming PC and laptop, the Bototek surge protector is definitely an ideal candidate. From its abundance of outlets to its fast-charging capabilities and robust surge protection, this surge protector has you covered. Level up your gaming experience with the Bototek surge protector and ensure that nothing stands between you and gaming experience.
For students living in dorm rooms or shared accommodations, the Bototek surge protector is a must-have. With limited outlet availability, the surge protector's 12 outlets allow you to charge multiple devices simultaneously, from laptops and smartphones to speakers and gaming consoles. The USB ports are also convenient for charging smaller devices like tablets and smartwatches.
Who Should NOT Buy It?
While the Bototek surge protector offers numerous benefits and features, there may be a couple of situations where it may not be the ideal choice.
If you have minimal power requirements on a frequent basis, such as only needing to charge a single device or two at a time, the Bototek surge protector with its 12 AC outlets and multiple USB ports may be excessive for your needs. In such cases, a simpler power strip or a compact charging solution might be more appropriate.
Although this 2980 Joules surge protector is designed to accommodate a wide range of devices, including the more recent iPhone models and Android devices, if you have specific compatibility needs (wifi, timer controls, integrated smart app, etc) that are not met by the USB-C and USB-A ports provided, you may want to consider alternative surge protectors that cater to your specific device requirements.
Is The Price Reasonable?
When you consider its 12 AC outlets, 3 USB-A ports, 1 USB-C port, and advanced surge protection of 2980 Joules and many more, the surge protector does provide excellent value for its current price.
In addition to the extensive power and charging options, the Bototek surge protector also offers convenient features like widely spaced outlets to accommodate bulky adapters, a fire-resistant casing for enhanced safety, and the ability to mount it on a wall. These added benefits contribute to the overall value of the product.
Check Price
What Else to Know About Bototek Surge Protector?
In addition to surge protection, the surge protector includes overload protection. This feature automatically cuts off power to the outlets in the event of an overload, protecting your devices from potential damage caused by excessive power draw.
The surge protector has a rated voltage of 125V and a rated current of 15A, allowing it to handle a maximum power of 1875W. This capacity ensures that the surge protector can safely support high-power devices without overloading or overheating.
Final Thoughts
Overall, the Bototek surge protection power strip with PD 20W is an above-average charging solution that combines functionality, efficiency, and safety. Its smart design, fast charging capabilities, and ample outlets make it an ideal choice for home, office, and beyond.
Having experienced the Bototek Power Strip firsthand, I can confidently say that it is an ideal addition to any home and office charging setup. If you're in search of a versatile and affordable power strip with decent quality, this Bototek Power Strip with PD 20W can be a worthy investment.
Frequently Asked Questions
Can I charge my iPhone 12 with this Bototek surge protector?
Yes, the Bototek surge protector features a USB-C port designed specifically for iPhone 12 and later models, allowing you to fast charge your iPhone using the dedicated USB-C Power Delivery port.
Is the surge protector compatible with Android devices?
This Bototek surge protector supports Quick Charge 2.0, making it compatible with a wide range of Android devices that are capable of quick charging.

Does Bototek surge protector have overload protection?
The surge protector can withstand a maximum current of 15A, ensuring safe and reliable operation for your connected devices.

Can I use the Bototek surge protector internationally?
The surge protector is rated for 125V voltage, which is commonly used in North America. If you are traveling or using it in a country with a different voltage standard, you may require a voltage adapter or transformer.

Is the Bototek surge protector compatible with smart home devices?
Yes, the surge protector can be used to power and protect various smart home devices, including smart speakers, hubs, security cameras, and other connected devices.

Can the Bototek surge protector be used in an office setting?
Sure, this Bototek surge protector is well-suited for office environments, offering ample outlets and USB ports to power and charge multiple devices simultaneously, providing convenience and organization.