Affiliate Disclaimer: Some of the links on this site are affiliate links. This means we may earn a commission if you click on the link and make a purchase.

Last Updated on July 28, 2023 by Marc Edwards

Power Surges.

The sworn enemy of all gamers.

It was raining outside – with occasional lightning and thunder.

You were glad to be at home playing your favorite game on your newly purchased gaming computer. You were asked to get a surge protector for your gaming PC but you decided to take the chance. "What could possibly happen?"

A few flashes of lightning came by – closely pursued by loud distant thunders.

You heard loud sparkling sounds (seemingly from your PC) and the lights in your room flicker.

Your computer screen went blank and there was a burning smell coming from the PC.

Silence.

Except for the pouring rain outside the windows, the room was silent.

You knew your computer has lost power. Intuitively, you immediately reached for the power-on button.

You hit the ON button a few times.

Nothing happened.

Nope, you did not hear the familiar sound of the hard disk spinning and the monitor screen remains lifeless.

Fingers crossed, you hit the power-on button again.

The gaming PC remains lifeless.

Damned.

It gradually dawned on you that your new gaming PC is down. And that burning smell. Something must have been damaged.

You silently wished you had taken the advice from the guy at the computer store to get a gaming PC surge protector.

The next day, you brought your gaming PC to the computer store. Thirty minutes later you were told both the motherboard and power supply were fried. Data on the hard disk was also corrupted.

You spent an additional few hundred dollars to have the motherboard and power supply replaced. Unfortunately, they could not salvage your precious hard-disk data. 🙁

This time around, you ordered a gaming PC surge protector immediately upon reaching home.

Precious time and money could have been saved had you bought one in the first place.

Lesson learned.

The above scenario could happen to anyone when a thunderstorm or power surge comes by. If you are an avid PC gamer, you will definitely want to seriously consider getting one after reading the gaming surge protector reviews below.

Be sure to read till the end and check out our six editorial recommendations that have been proven to shield computers and laptops against power surges and transients.

For now, you will want to know how to go about choosing the right surge protection device for your gaming needs. You do not want to jeopardize your gaming PC by choosing the wrong type of surge protector for it.

More on that later.

Having a good surge protector will indirectly increases the lifespan of your gaming PC.

Without much ado, let's get started.

What to Get?
Gaming PC Surge Protector – 5 Must-have Features
Most people have the impression that choosing a surge protector is a no-brainer task.
Well, it depends.
It is definitely not the case if you are getting one for a very specific type of application.
For example, a typical 6 outlet surge protector would not be suitable for surge protection of large appliances like ovens.
Surge protectors for large appliances usually come in the form of a single outlet plug. Likewise, there are specific features you will need in the case of a gaming PC.
Response Time
In the case of a surge protection device, the response time (measured in nanoseconds) is the amount of time it takes for the active surge protection to kick in. The shorter the response time the better.
A longer response time could mean a higher chance of connected devices getting hit by power spikes.
Protection Active LED Light
This is a no-brainer. Just look out for one that comes with an "Active Protection" LED light. Active protection LED light informs you that the surge protector is still in the active protection of your gaming PC, monitor, and other connected devices.
High Joules Rating
While having a surge protector with a high joule rating is not the most important criterion – it is a must-have if you are looking to get one that could protect your gaming PC for a long time.
A high joule rating basically means it is capable of absorbing more "hits" when power spikes occur. The higher the joule rating of the surge protector, it can also mean the longer the lifespan it has.
Whenever a power spike comes along, the joule rating will get depleted by a certain amount. The surge protector will continue to shield against it until its joule rating is entirely depleted.
When hunting for a gaming PC surge protector, you will want to get one with at least a 2000 joules rating.
USB Charging Ports
In this day and age, it would be rare to know anyone who does not have a USB-based device on them.
Having 2 USB charging ports allows you to charge your phone and another USB device while having active surge protection for your gaming PC.
Comprehensive Connected Equipment Warranty
Most people do not look at the warranty period whenever they purchase electronic appliances. Until something happens.
Be sure to get one that comes with comprehensive warranty coverage that includes connected devices.
Typically a 12-month warranty is good enough if you stay near a lightning-prone area.
Buying Guide for Gaming PCs
What Else to Look for When Buying a Surge Protector for Gaming PC?
No. of Outlets
Go for a minimum of 6 outlets if you are not a huge gadget junkie like me. Your PC and monitor, printer, and desk light may already take up 4 slots.
That will leave you with only 2 more outlets for charging things like mobile phones, iPads, smartwatches, headsets, etc.
You will need one with more outlets if you have things like additional monitors, cable modems, security cameras, switches and routers, and so on…
Length of the Power Cord Matters
Unless you stay in a super small room and have easy access to all the A/C outlets on the wall, you will want to get one with a lengthy power cord.
Most of us, including me, have far-flung A/C wall outlets, and having a surge protector with a long power cord can be a lifesaver.
Go for a minimum length of 6 feet and not any shorter.
Wall-mount Capability
If you do not have sufficient floor and desk space for a long surge protector or one with a big footprint, you may be looking at wall-mounting it.
Mounting a surge protector on the wall is definitely a good way to space precious real estate especially if you are an avid gamer with lots of gaming equipment and peripherals lying around on the table.
Best Protection for Gaming PCs
Are Surge Protectors the Best Protection for Gaming PCs?
Well, the short answer is No.
Not really.
If you really want seamless and zero-interruption gameplay, getting a UPS (Uninterrupted Power Supply) may be your best bet.
All UPS systems come with a built-in backup battery.
When there is a power outage, your gaming PC or laptop would be able to fall back onto the backup batteries and have enough time to perform a graceful shutdown.
UPS systems will protect against overvoltages (power spikes), like a surge protector, and will continue to provide power to your gaming PC during a blackout.
You will want to invest in a UPS battery backup surge protector if you are a professional gamer and have no tolerance for unexpected power outages.
CyberPower CP1000AVRLCD
Multi-functional LCD Panel and AVR features that corrects minor power fluctuations and many more
Gaming PC Surge Protectors – 6 Editorial Recommendations for 2023
===
[1] Huntkey 12 Outlets Surge Protector Power Strip [Huntkey SMC127]
Besides having a more than decent lifespan of 2390 joules, this cost-effective surge protector is an excellent choice for protecting gaming PC and laptops from damaging power spikes. We like the clean and sleek look offered by the black color housing.
This power strip surge protector comes with 2 block-space outlets which can easily handle oversized plugs like printers and modems.
You will be glad to know it is also made of fire-prevention material and it offers overload protection (over-current) to help safeguard against overheating.
Core Product Features
Joules Rating: 2390
Number of Outlets: 12 Outlets
Power Cord Length: 1.8 meters (6 feet) long power strip with flat plug
USB: 2 x USB Charging Ports
Warranty: 3 Years Warranty
What We Don't Like
The 2 USB ports (5V2.4A combined) are not the fastest but we won't complain so long it gets the job done. 🙂

Why You Should Consider
If you are a gamer with lots of electronic gadgets, this 12-outlet surge protection will be a worthy buy. Moreover, Huntkey is a decent brand with a relatively good rating of 4.8/5 from Amazon and at 670g, it will not weigh you down if you decided to bring it on the road with you.
Read Full Review
Check Latest Price
===
[2] Witeem 12-Outlet USB Power Strip Surge Protector

The feature profile of this 4360 joules Witeem surge protector is somewhat similar to that of Huntkey surge protector above if not better. 🙂 The features worth highlighting are the Overload Protection and Flame Resistant housing which is critically important for serious gamers.
There is an overload protection system that guards against power overload and the housing of this Witeem surge protector is made of Flame Retardant material which is able to withstand temperatures of up to 1,382℉(750℃).
This surge protector is both FCC certified and ETL listed. This means you can fully indulge in your gaming experience without any worries.
Core Product Features
Joules Rating: 4360
Number of Outlets: 12 Outlets
Power Cord Length: 6 feet heavy-duty extension cord
USB: 4 x USB Smart IC Technology (5V/6A,30W) Charging Ports
FCC certified and ETL listed
What We Don't Like
None.
Give it a shot. Its fire-retardant casing will provide additional peace of mind during bad weather and high transient spikes.
Read Full Review
Check Latest Price
===
[3] Plugable 12-Outlet USB Power Strip Surge Protector [PS12-USB25]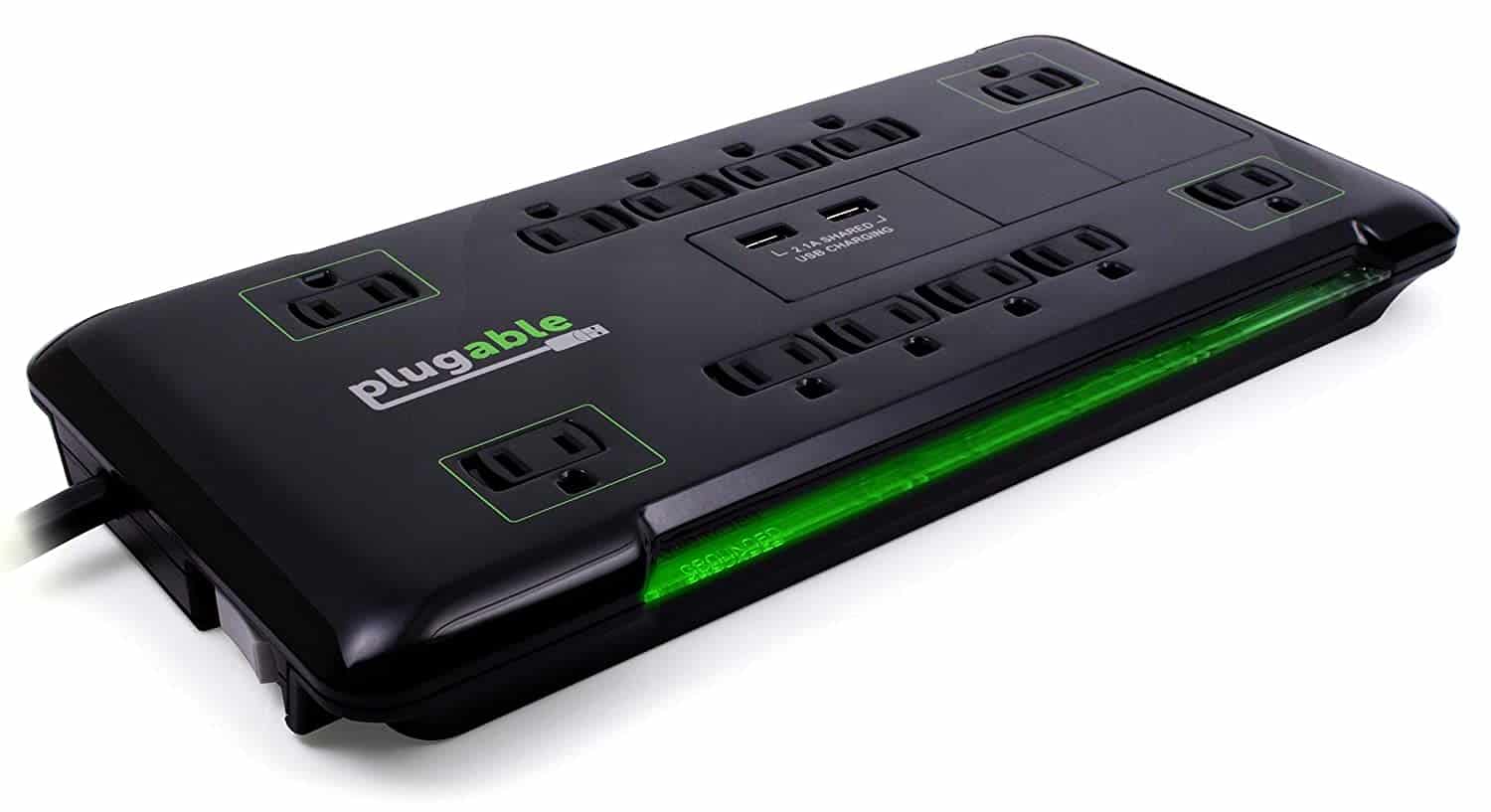 There are quite a few things we like about this 12 outlet surge protector from Plugable. Besides having a built-in EMI/RFI Filter and circuit breaker switch, this 4320 joules surge protector comes with a 25-foot long extension cord. This is especially helpful for playing your favorite game outdoor while tapping onto the indoor A/C outlet.
There is also a 6-foot power cord model if 25 feet is way too long for you. 🙂
On top of that, we are also impressed with its sliding safety covers. They are especially useful when you have little ones at home.
Core Product Features
Joules Rating: 4320
Number of Outlets: 12 Outlets
Power Cord Length: 25 foot
USB: 2 x USB (2.1A shared)
Warranty: 24 months limited parts and labor warranty
What We Don't Like
The glaring green lights at the top and bottom of the device can be a dealbreaker for a very small minority of people. Just don't use it in the bedroom if you are not a fan of greenish night light illuminating the walls of your bedroom.
Read Full Review
Check Latest Price
===
[4] Bestek 10-Outlet High Joules USB Surge Protector

Beyond its aesthetically pleasing white or black design, this 4000 joules Bestek surge protector not only comes with a long lifespan, but it also comes equipped with dual auto 5V/2.4A smart USB charging ports as well as coaxial cable and RJ11 phone line (1 in, 2 out) protection. So if you have a cable box or satellite connection at home, this could be an ideal one for you.
If you have big-size plugs at home, you will be glad to know that it comes with two widely spaced-out AC outlets. We like the fact that Bestek places the power switch near the cable cord to help guard against accidental turn-off.
Core Product Features
Joules Rating: 4000
Number of Outlets: 10 Outlets
Power Cord Length: 6 foot
USB: Dual 2.4A USB Ports
Warranty: 18 months product warranty
What We Don't Like
The 18 months product warranty is definitely not the most ideal but if it is not much of a concern for you, this is actually quite a value-for-money surge protection device for gaming PC.
Read Full Review
Check Latest Price
===
[5] Bototek Surge Protector with 12-Outlet + 4 USB Charging Ports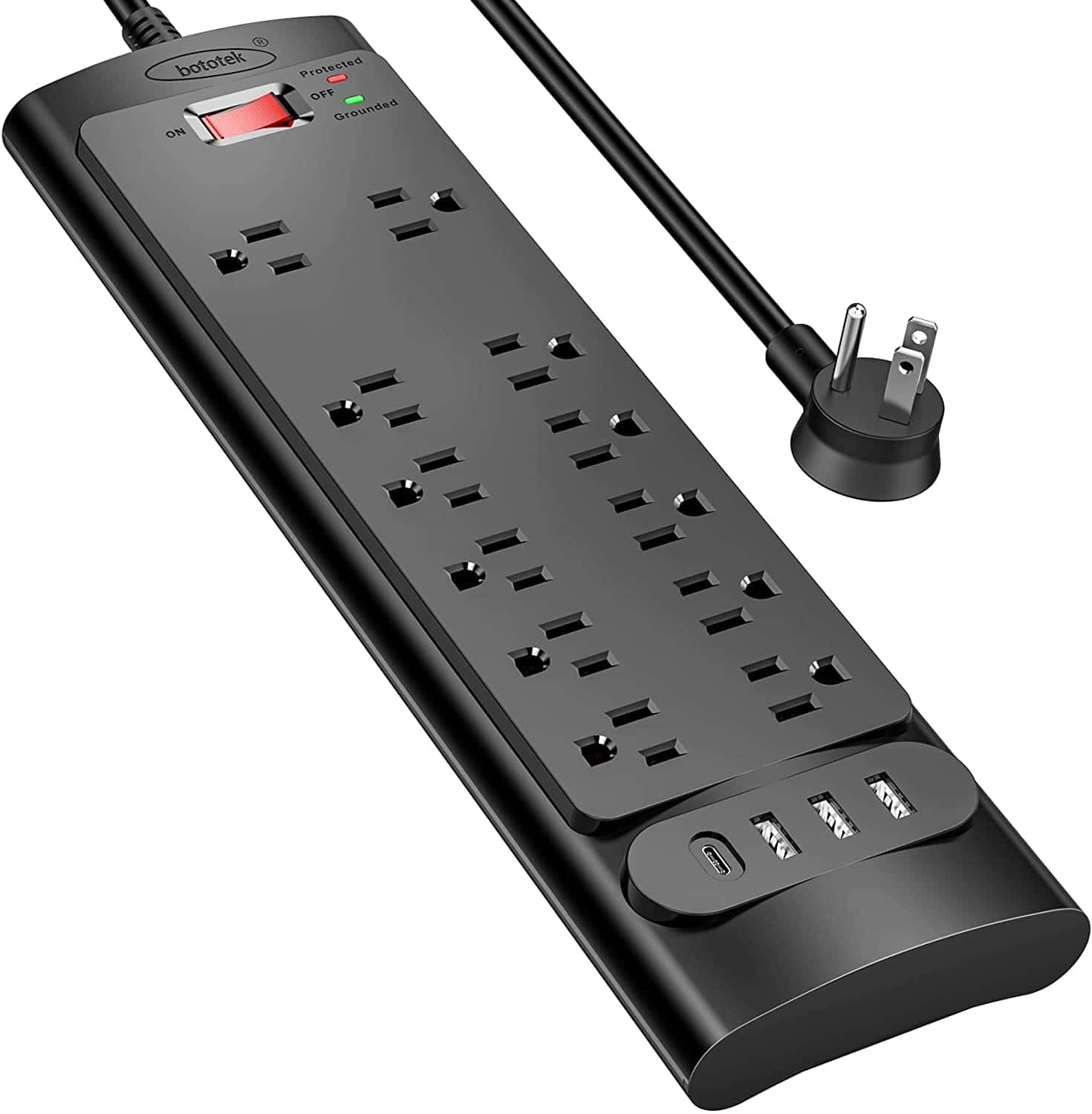 If you are a gamer looking for a surge protector that has features like over-current, short circuit, and overload protection, high heat resistance, and built-in power voltage sensor, this updated model of Bototek surge protector may be your best bet. These features will probably offer the best surge protection for your gaming PC.
I really like that this updated version comes with 4 USB ports and that includes one USB-C port for ultra-fast charging.
While it does not have a high joule rating, it does come with more than decent 2980 joules which is more than sufficient for any gaming needs.
This surge protector from Bototek comes with a decent 2 years warranty.
Core Product Features:
Joules Rating: 2980
Number of Outlets: 12 Outlets
Power Cord Length: 6 feet
USB: 4 x USB ports (includes 1 x USB-C port)
Warranty: 24 months worry-free product warranty + 30 days hassle-free returns.
What We Don't Like:
None. This is a must-buy for serious gamers.
Read Full Review
Check Latest Price
===
[6] Tripp Lite 6-Outlet Power Strip Surge Protector with 3 USB Ports [TLP648USBC]
This surge protector from Tripp Lite is not just a gaming PC surge protector, it is highly portable which means you can bring it with you everywhere you go. This 1080 joules surge protector features a spring-loaded clamp that can be easily attached (up to 2.5 inches in thickness) to your gaming desk which will provide you with more space for your other gaming devices.
If you are looking for one with a long power cord, you will happy to know that this Tripp Lite surge protection device comes with an 8 feet power cord and 3 USB charging ports (dual USB-A ports and one USB-C port for ultra-fast charging).
Trying to cut down your electricity bills? You will be glad to know TLP648USBC comes with an On/Off switch control. At a flip of a switch, it stops the flow of a/c power to all outlets hence saving energy when all connected devices are idle.
If you are a serious gamer, you will want to know that it has a built-in breaker to help protect against overloads. 💪
Core Product Features:
Joules Rating: 1080
Number of Outlets: 6 Outlets
Power Cord Length: 8 feet
USB: dual USB A ports + 1 x USB-C port
Warranty: Lifetime Limited Warranty
What We Don't Like:
Despite its low joules rating of 1080, you should not be too worried about it unless you happen to be staying near lightning-prone areas or an old building in which electrical transients/power spikes are frequent visitors.
Read Full Review
Check Latest Price