Affiliate Disclaimer: Some of the links on this site are affiliate links. This means we may earn a commission if you click on the link and make a purchase.
Last Updated on July 28, 2023 by Marc Edwards
I have been hearing good things about this surge protection device since it came out in 2017. This review of this pluggable surge protector was conducted sometime back. I journaled down some notes and forgot about it but was reminded of it when I saw one at my client's office. 🙂
So below is my review that was conducted at my workplace. This Plugable surge protector left me quite an impression because of its extremely long power cord which spans 25 ft (7.62 meters) and its very nice and bright greenish light that kind of glow in the dark.
First Impression of Plugable Surge Protector
From the moment I ordered it to the first time I plugged it in, this power strip has exceeded my expectations in more ways than I expected. Delivery was surprisingly swift, taking only two days to reach my doorstep. The efficiency and promptness of the shipping process left me with a positive first impression.
As I eagerly unwrapped the package, the sleek black design of the power strip immediately caught my eye, besides the gigantic coil of power cord that stretches from one end of my office space to the other. Its four widely spaced-out sockets located at the corners of the device were a selling point I could not resist.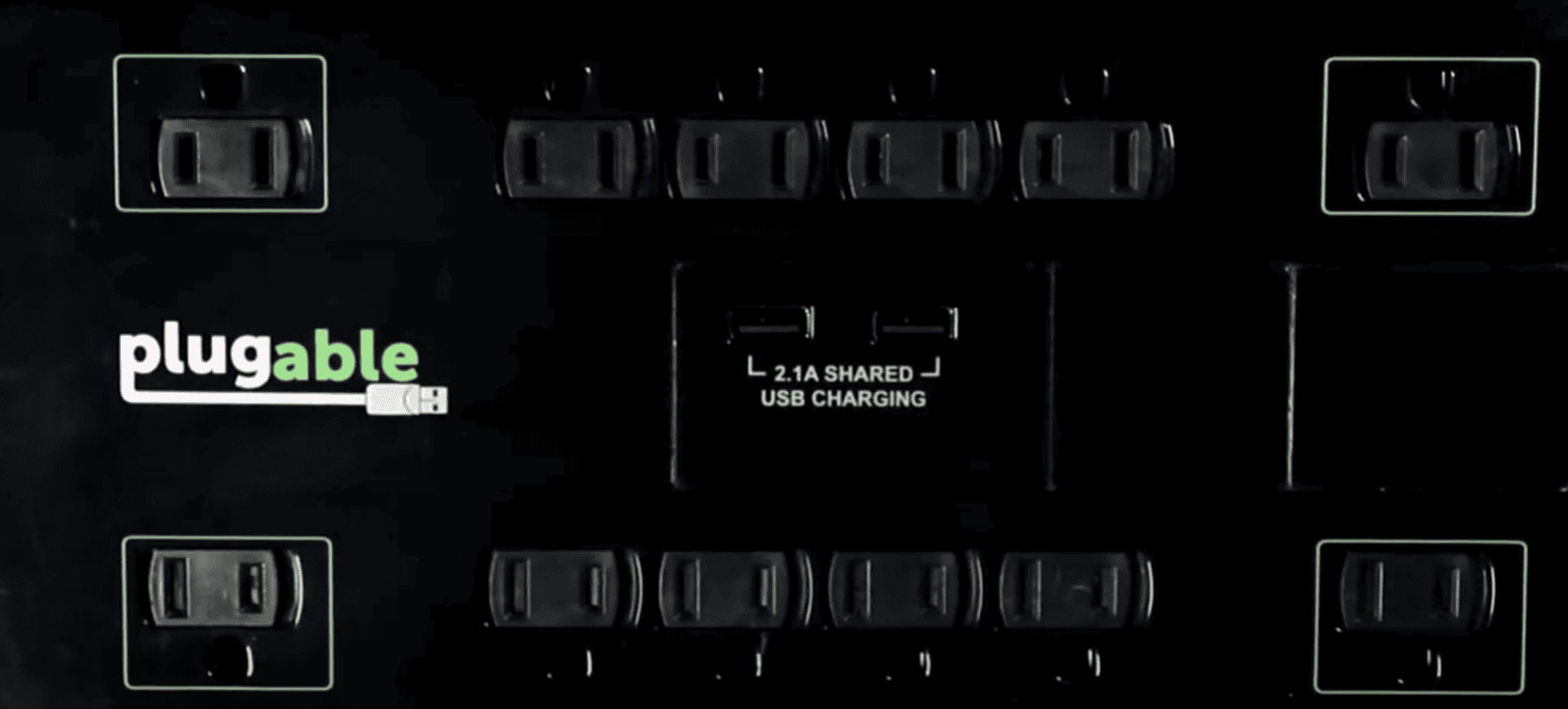 The exterior offers a smooth and sturdy build quality – the materials used felt durable, assuring me of its long-lasting performance. The sliding safety covers were a thoughtful design, providing an extra layer of protection against accidental contact. Furthermore, these covers effectively shielded the unused outlets from dust and debris, ensuring a clean and safe power distribution.
In a Nutshell Review
If you plan to place this surge protection device inside your bedroom, you might want to consider if you are a fan of bright green light illuminating your bedroom walls at night. Some people love the bright green lighting as it provides a nice glow-in-the-dark effect on the walls.
The 25ft power cord is useful in many applications but such a lengthy cord is obviously NOT for everyone.
The remarkably high Joules Ratings of this wall-mountable surge protector and its 12 outlets (including 4 widely spaced-out ones) are definitely its best-selling points.
Plugable 12 Outlet Surge Protector Power Strip
The Plugable Surge Protector Power Strip impressed me with its 4320 joule ratings and the inclusion of four extra-wide corner outlets, accommodating bulky power adapter bricks without blocking adjacent outlets. This intelligent design choice resolved the frustration of limited outlet usage. Overall, the power strip seamlessly combines style, safety, and functionality, standing out from other options on the market due to its attention to detail and meticulous design choices.
PROS
12 outlets
4320 Joules
Wall Mountable
2 years warranty
CONS
The green lights by the sides can be glaring at night
Only comes with 2 x 2.1A Shared USB ports
Check Price
Features We Like
12 Outlets (4 Corners of Widely Spaced Out Sockets)
When it comes to features that impress me, the Plugable Surge Protector Power Strip proved to be a powerhouse. With its 12 surge-protected standard US power outlets, I could effortlessly connect and power many of my electrical devices simultaneously. What impressed me the most was the inclusion of four corner outlets spaced extra-wide, accommodating those annoyingly bulky "wall wart" power adapter bricks without obstructing adjacent outlets. This intelligent design choice alleviated my frustration of not being able to utilize all the outlets due to bulky adapters.
4320 Joules Rating & Safety Features
Safety is obviously a top priority in the design of this power strip. The 4320 Joules of surge protection, along with the built-in EMI/RFI filter, provided me with peace of mind knowing that my devices were shielded from voltage spikes and electrical storms. The 2-in-1 power/circuit breaker switch added an extra layer of convenience, allowing me to easily control the power flow to connected devices. The UL/cUL listing further confirmed its adherence to safety standards, ensuring the utmost protection for my valuable electronics.
25 Foot Power Cord
In terms of practicality, this power strip excelled with its 25-foot extension cord. It offered an extensive reach, allowing me to power devices in distant corners of the room without relying on unsightly and potentially hazardous extension cords. This feature not only improved the aesthetics of my workspace but also resolved fire safety concerns associated with using long cords.
Pro Tips
If you are NOT a big fan of the glaring greenish illumination at night, you can either tape out the lighting with masking tape or place it behind a cupboard or major appliances.
Specification Table
| | |
| --- | --- |
| Plugable PS12-USB25 | Specification Table |
| Dimensions | 12 x 5.75 x 1 inches |
| Net Weight | 3.12 pounds (1.41 kg) |
| No. AC Outlets | 12 |
| Power Cord Length |  25ft |
| Joule Ratings | 4320J |
| USB Ports | 2 (10.5W (2.1A shared)) |
| Warranty | 24 months |
Who Should Buy It?
Homeowners or businesses looking for a comprehensive power solution that combines convenience, safety, and style.
If you are an avid gaming fanatic sourcing for gaming surge protection devices to help safeguard and charge up your multiple gaming gadgets due to your constant need for extra power outlets, especially accommodating bulky power adapter bricks – this pluggable SPD might be for you.
It is also ideal for those who value surge protection and the added benefit of USB charging ports. The long 25ft cable offers flexibility in placement, making it suitable for various environments such as homes, offices, or workstations. Additionally, the sleek black design with sliding safety covers adds a touch of sophistication and ensures user safety.
Who Should NOT Buy It?
While the Plugable Surge Protector Power Strip with USB and 12 AC Outlets offer numerous benefits, there are certain situations where it may not be the ideal choice.
Those who have minimal power needs or require a compact power strip may find this product to be excessive. If you only need a few outlets and don't have a need for surge protection or USB charging ports, a simpler and more compact power strip might suffice.
Additionally, if you are looking for a power strip that can be easily transported or used in travel scenarios, the size and weight of this power strip, along with its long cable, may make it less convenient for such purposes. There are more portable and lightweight power strip options available on the market that would better suit those specific needs.
Most importantly, if you are planning to put this surge suppressor in the bedroom, do be mindful that not everyone is a fan of greenish glows illuminating the bedroom walls at night. 🟩
Is The Price Reasonable?
At its current price point, the Plugable Surge Protector Power Strip with USB and 12 AC Outlets seems reasonable considering the features and functionality it offers. With surge protection, USB charging ports, extra-wide outlets for bulky power adapter bricks, and a long 25ft cable, it provides a comprehensive power solution. Additionally, the sleek design, built-in safety features, and the 2-year limited warranty further enhance its value.
When comparing it to similar power strips on the market, the price falls within a competitive range, considering the quality and versatility it provides. However, it's always a good idea to compare prices and features with other available options to ensure it aligns with your specific needs and budget.
Check Price
Sentiments on Plugable Surge Protector
As you might have expected, a small minority of customers are not a fan of glaring green light reflecting upon the walls in their bedroom at night. But if you are not planning to put it inside the bedroom, this surge protector is definitely worth considering.
Or you might want to try out our Pro Tip mentioned above if you are planning to sleep with it in the same room.
Minor Flaws – What to Expect
While the Plugable Surge Protector Power Strip has exceeded my expectations in most aspects, I would be remiss not to mention a few minor drawbacks.
The power strip lacks individual power switches for each outlet, which means that if I want to turn off a specific device, I have to unplug it entirely. While this may not be a significant inconvenience, it would have been a welcome addition for enhanced control over individual devices.
The two USB ports deliver a combined 10.5W (2.1A) of power which honestly is not sufficient to provide fast charging to electronics with big battery capacity. I tried charging one old Andriod phone and a wireless mouse and both were sufficiently charged up within 30 mins.
While the Plugable Surge Protector Power Strip boasts numerous impressive features, it is important to address its weight. At 3.12 pounds, it will feel slightly heavier compared to other power strips. However, considering its robust build quality and the range of features it offers, I consider this a minor trade-off for the durability and reliability it provides.
Final Thoughts
Overall, Plugable Surge Protector Power Strip is a game-changer in the realm of power management. Its sleek design, robust surge protection, and a good number of outlets make it a reliable companion for both personal and professional settings. The convenience of the built-in USB charger, the extensive reach of the 25-foot cord, and the attention to safety features further enhance its value.
From the moment I received this power strip, the experience has been delightful. From the tactile sensation of its sturdy build to the visual appeal of its modern design, every aspect exudes quality and thoughtfulness. Plugable has truly created a product that combines functionality with aesthetic appeal, elevating the mundane task of powering devices.
Additionally, Plugable stands behind the quality of its product with generous 2-year limited parts and labor warranty. This commitment to customer satisfaction reassured me of the brand's confidence in the durability and performance of its surge protector power strip.
If you are in search of a surge protector power strip that offers both style and substance, this Plugable Surge Protector Power Strip should be on the top of your to-buy list.
Frequently Asked Questions
Can I use this power strip for charging mobile devices?
Absolutely! This power strip features a built-in 2-port USB charger with 10.5W (2.1A shared) power output, allowing you to conveniently charge Android, Apple iOS, and Windows mobile devices directly from the power strip.
Does it have individual power switches for each outlet?
No, this power strip does not have individual power switches for each outlet. Power flow to the connected devices can be controlled using the 2-in-1 power/circuit breaker switch, which operates all the outlets simultaneously.

Can this power strip be used internationally?
The Plugable Surge Protector Power Strip is designed for use in the United States and is compatible with standard US 3-prong grounded power outlets. It operates at a voltage of 120 Volts. It is important to ensure compatibility with local power standards if you plan to use it internationally.

Does this power strip have UL/cUL certification?
Yes, the Plugable Surge Protector Power Strip is UL/cUL Listed. Its certification number is E115193, ensuring that it meets the necessary safety standards and regulations.

Can I use this power strip outdoors?
No, the Plugable Surge Protector Power Strip is designed for indoor use only. It is not suitable for outdoor applications due to potential exposure to moisture and other environmental factors. To ensure safety and proper functionality, it should be used in dry indoor environments.

Is the USB charger compatible with fast charging technologies?
While the built-in USB charger provides 10.5W (2.1A shared) power output, it may not support fast charging technologies such as Qualcomm Quick Charge. However, it offers efficient charging for a wide range of Android, Apple iOS, and Windows mobile devices.

Can this power strip be mounted on a vertical surface?
Yes, the Plugable Surge Protector Power Strip is designed to be mounted on both horizontal and vertical surfaces. It provides flexibility in installation options, allowing you to customize its placement according to your needs.