Affiliate Disclaimer: Some of the links on this site are affiliate links. This means we may earn a commission if you click on the link and make a purchase.
Last Updated on August 15, 2023 by Marc Edwards
The review of Huntkey SMC127 is purely a referral from one of my previous clients. She has high praise for its reliability and the peace of mind it brought her in protecting her home electronics during the renovation remodeling process. Intrigued by her positive experience, I bought this surge protector, eager to verify its effectiveness firsthand so that I might potentially recommend it to future clients.
In this review, I'll delve into every aspect of the Huntkey SMC127, providing insights into its performance, functionality, and most importantly, my personal experiences with it.
First Impression: Appearance and Quality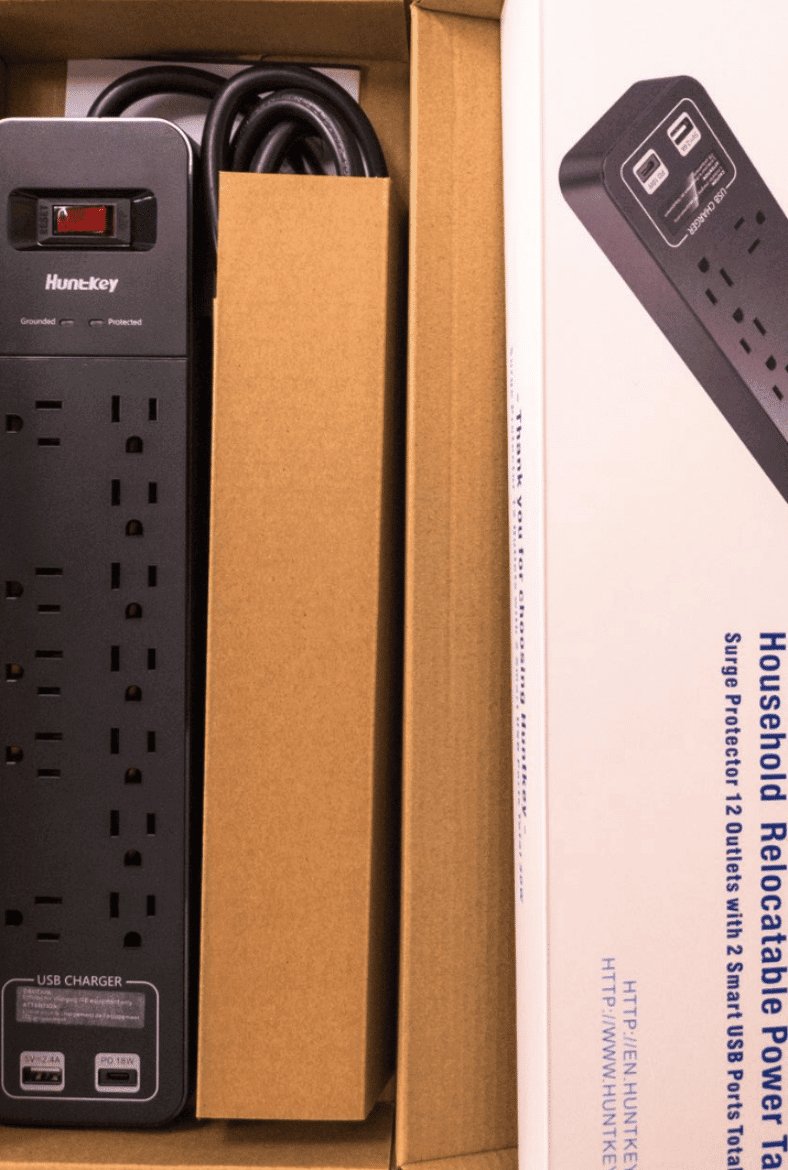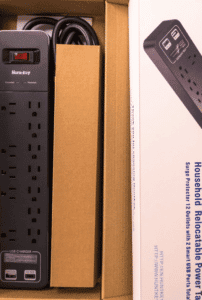 When the Huntkey SMC127 arrived at my doorstep, I eagerly unboxed it. The first thing that struck me was its elegant matte black finish, exuding a sense of modern sophistication. As I held it in my hands, I noticed its solid build quality, providing a reassuring weight and sturdiness.
I must say I was rather impressed by its sleek design and its somewhat robust housing.
The smooth texture of the power strip's surface invited my fingertips to explore its contours, reaffirming its quality craftsmanship. From the placement of the outlets (a couple of widely spaced outlets) to the positioning of the USB ports, this Huntkey surge protector showcased a thoughtful design.
Huntley SMC127 Surge Protector
Despite some of its minor issues, SMC127 is definitely a worthy buy for people who own lots of electronic gadgets that requires constant power input. Gamers and office workers should seriously consider getting this to help safeguard their electronic assets.
PROS
12 outlets
2390 Joules
Wall Mountable
3 years warranty
CONS
Power cord a little stiff and inflexible
Only 2 x USB ports
Wall mounting keyhole not properly cut out
Check Price
Practicality: Usability and Features
The Huntkey SMC127 truly shines when it comes to power and protection. With its decent 2390-Joule energy rating, I felt confident that my valuable gaming devices were shielded from voltage fluctuations, surges, and spikes. This surge protector effortlessly handled the electrical demands of my gaming PC, ensuring a stable and uninterrupted gaming experience.
Featuring 12 power outlets, the Huntkey SMC127 offers an abundance of space to connect multiple devices simultaneously. There are two well-spaced jacks that accommodate even the bulkiest of plugs and adapters, eliminating the frustration of blocked outlets. Additionally, the two USB charging ports proved handy for quickly and efficiently charging my USB-powered devices.
While the USB charging ports provided adequate power output, I must mention that they are definitely not the fastest – you will be disappointed if you expect fast charging them. However, considering the overall performance of the Huntkey SMC127, this minor inconvenience did not dampen my enthusiasm for the product.
Specification Table
Huntkey SMC127
Dimensions
13.82 x 3.07 x 1.08 inches [351*78*27.5mm]
Weight
1.48 pounds (0.67kg)
Certification
ETL / FCC/ UL
USB Output
2 x USB shared 2.4A
Country of Origin
China
Pain Points and Room for Improvement
While the Huntkey SMC127 impressed me in many aspects, I would be remiss not to mention a couple of pain points. Firstly, I found the power cord to be stiffer than I anticipated, it was kinda of inflexible when I attempted to twist it to fit tight corners.
Secondly, it would have been great if Huntkey SMC127 offered features such as individual outlet switch control ( for obviously energy-saving purposes) and safety covers to prevent little fingers from entering the outlets.
The USB ports could have been upgraded to provide faster charging but personally, I find the charging speed to be somewhat decent (for my devices).
I spent 50 minutes attempting to mount this surge protector, to later find out that the mounting keyholes were not deep enough for normal screw heads to secure the mounting. This is probably the only pain point that bothers me. So I ended up placing the surge protector on top of a bookshelf which works for me. 🙂
Who Should Buy It?
If you have a couple of big-sized charging bricks like the one from Apple laptops, there are a couple of widely spaced outlets that are able to accommodate them. If you are a gamer that is not picky about having super-fast USB port charging for your electronics and gaming surge protection device, this SMC 127 SPD is really worth considering.
Who Should NOT Buy It?
Do not buy this if you have limited space on your desk and are looking to wall-mount this Huntkey surge protection device. As I mentioned earlier, depending on the manufacturing batch you got, the mounting keyholes might not fit the screw heads. And of course, if you really need fast USB port charging capability, you should look elsewhere.
Existing Buyer's Opinions and Review
A few buyers also mentioned wall-mounting difficulty in addition to its lack of fast charging capability from the USB ports.
Minor Flaws – What to Expect
The stiffness of the power cord and the lack of safety covers are definitely not deal-breakers for me. Although if you have couple a few big-sized power plugs, you might have to sacrifice some outlet space to fit in all the big plugs.
Is The Price Reasonable?
For what it is worth, the price is obviously a little on the high side but if it fits your needs, I would still recommend you give it a try, given that this product has over 5000 favorable ratings on Amazon.
Final Thoughts
Huntkey SMC127 is a decently good surge protector that seamlessly combines power, protection, and elegant design.
Its robust performance, ample outlets, and USB charging ports make it a reliable companion for gaming enthusiasts and tech-savvy users alike.
While there are minor pain points to consider, the overall quality and functionality of the Huntkey SMC127 make it a practical choice for safeguarding and powering your valuable electronics.
Frequently Asked Questions
Does the Huntkey SMC127 come with surge status indicators?
No, the Huntkey SMC127 does not come with a surge status indicator, only a "Protected" status indicator.
What is the power output of the USB charging ports?
The USB charging ports on the Huntkey SMC127 have a total power output of 2.4A, allowing for efficient charging.

Can the Huntkey SMC127 be wall-mounted?
Yes, the Huntkey SMC127 has two keyhole mounting slots on the back, making it possible to securely mount on a wall.

Can the Huntkey SMC127 be used for home entertainment systems?
The Huntkey SMC127 is designed to protect and power a wide range of devices, including home entertainment systems, ensuring their safety and performance.

How does the Huntkey SMC127 handle power overload situations?
The Huntkey SMC127 features overload protection, ensuring that it can handle power overload situations without compromising the safety and performance of your devices.

Can the Huntkey SMC127 accommodate large grounded plugs and adapters?
Yes, the Huntkey SMC127 is designed with well-spaced jacks to accommodate large grounded plugs and adapters, providing convenience and flexibility for your devices.