Affiliate Disclaimer: Some of the links on this site are affiliate links. This means we may earn a commission if you click on the link and make a purchase.
Last Updated on July 28, 2023 by Marc Edwards
I have never reviewed a desk clamp version of a surge protector thus this Tripp Lite TLP648USBC desk clamp surge protector review is a spare set 'loaned' to me by a good friend of mine. Her tech-savvy husband bought 3 sets through an online promotion and she asked if I would like to review one of their units, I agreed in a heartbeat. 🙂
Since I have never tested and evaluated such a surge protection device before, I decided to conduct the review at my workshop. From the moment I received the package, I was eager to explore its features and put it to the test. Let me take you through my first-hand experience, from the moment I opened the box to my thoughts on its various features.
First Impression of Tripp Lite TLP648USBC Surge Protector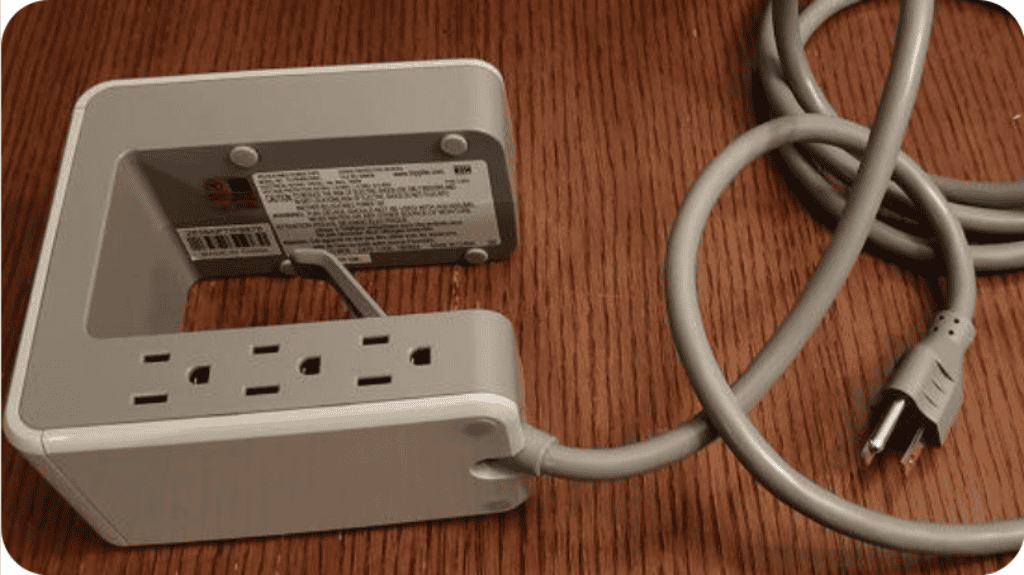 When I first picked up the surge protector, the first thing that hit me was its weight. At 1.72 pounds (0.78 kg), I would consider bringing it along for day-to-day commuting purposes if not for its bulky power cord.
The dimensions ( 5.3 x 2.7 x 5.2 inches) of the surge protector was slightly chunky for my liking if I were to bring it from place to place.
As I set up it on my work desk which has a flat wooden surface, the clamping part was initially acceptable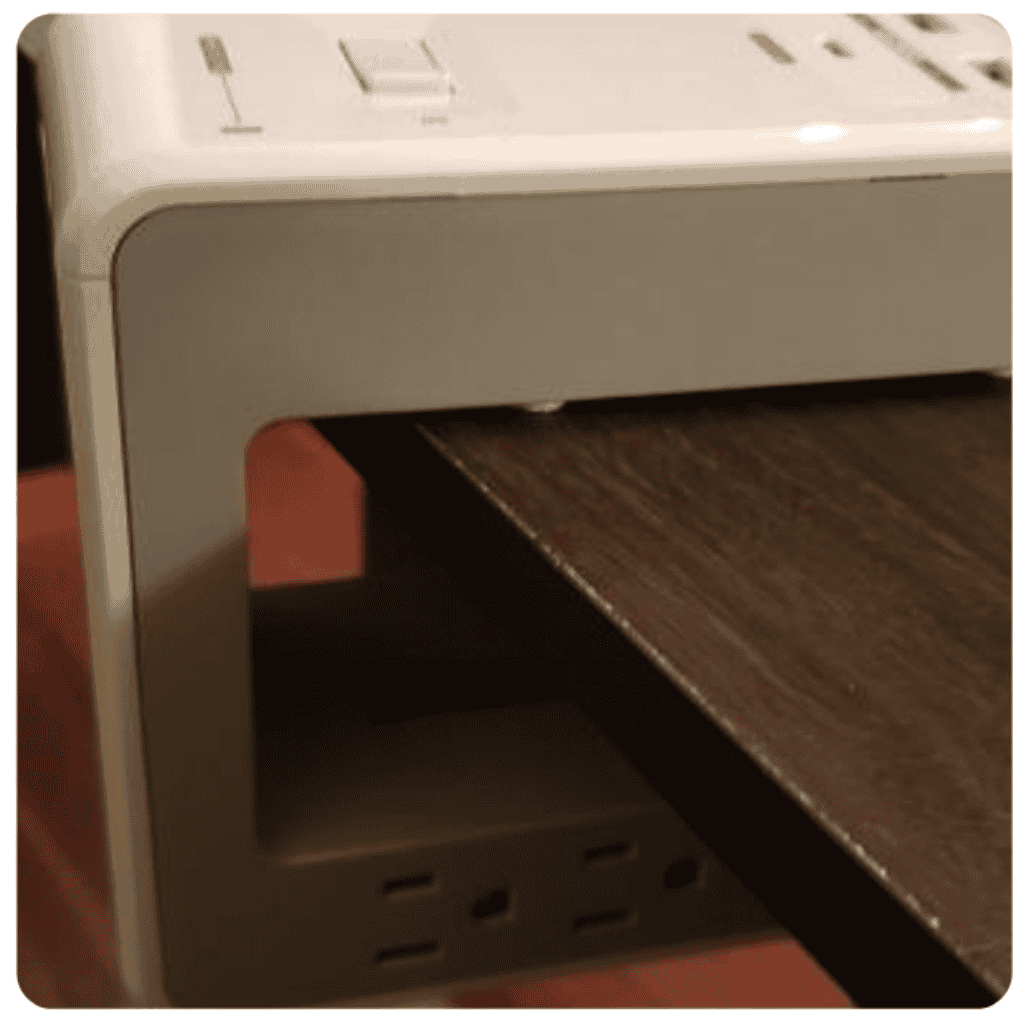 until I start plugging in some of my electrical devices for charging. The body of the device started to sway slightly as I plug in more devices – the spring-loaded clamp does not offer a tight grip on the edge of the table – my table was possibly too thin for it to get a tight grip.
Cable management might be something you want to consider if you were to get this desk clamp surge protector. The plugged-in power cables will sprout out from both sides of the device and it can be quite challenging to cable manage the power cords if you are a tidy freak like me. 🙂
As I inspect and test the surge protection device further, I ended up moving it to one corner of the desk which is adjacent to the wall. From that position, I didn't have to worry about accidentally kicking the power cords which caused the desk clamp to tilt. The USB-C and USB-A ports worked just fine, charging up my iPad and my running watch was relatively fast without any major issue.
In a Nutshell Review
Cable management might be a slight challenge for you since there will be power cords of your plugged devices sprouting out from both sides of the desk clamp. For me, it wasn't much of an issue since I placed the desk clamp on a corner of the desk adjacent to a wall.
This desk clamp supports up to 2.5″ (in thickness) desktops that come with a flat surface in order to secure a tight grip from this spring-loaded desk clamp surge protection device. But if you do not mind it swaying a bit here and there from time to time, it does help trim some serious real estate off your work desk.
The USB-A ports offer very average charging speed, do not expect too much from them – using them to charge things like iPad will take a while but smaller items like USB mice, and wireless keyboards will do just fine.
Tripp Lite Desk Clamp Surge Protector TLP648USBC
This spring-loaded desk clamp surge protector managed to reclaim quite a bit of real estate on my work desk and the USB-C port provided pretty decent charging speed. The high price tag and low Joules rating of 1080 Joules are probably the only minor flaws that I can nitpick. Overall, a good quality surge protection device that comes with lifetime limited waranty.
PROS
Spring-loaded desk clamp saves precious desktop real estate
8-foot power cord
1 x fast charging USB-C port
Lifetime Limited Warranty
CONS
High price tag
Joules Ratings could be higher
Check Price
Features We Like
Spring-loaded Desk Clamp Design
The most prominent benefit of the spring-loaded desk clamp design is its ingenious space-saving feature. By attaching the surge protector to the
edge of your desk, it eliminates the need for additional space to accommodate the power strip. This efficient setup allows you to keep your work surface free from clutter, providing more room for essential tasks and boosting productivity.
Its non-permanent attachment means you can move it between desks effortlessly without leaving any marks or residue behind. This adaptability allows you to maintain a clean and organized work environment, contributing to a more focused and aesthetically pleasing setting.
The spring-loaded clamp design streamlines the setup process, allowing you to attach the surge protector to your desk in seconds. No tools, drilling, or adhesive materials are required. This swift and straightforward installation is perfect for individuals who frequently change workspaces or for those who value convenience and efficiency.
USB-A and USB-C Ports
USB-A ports: The Tripp Lite Surge Protector Desk Clamp's USB-A ports offer the convenience of charging multiple devices simultaneously. With up to 4.8A of combined charging power, you can power up multiple smartphones, tablets, or other USB-A-compatible gadgets efficiently. If you have older devices that use USB-A connections, the surge protector's USB-A ports ensure continued support and charging for these devices. You won't have to invest in additional adapters or cables to accommodate your legacy devices.
USB-C port: USB-C is a reversible connector, making it easy to plug in devices without worrying about orientation. Moreover, USB-C supports bidirectional power transfer, enabling devices like laptops to charge other devices via the USB-C port, enhancing the overall versatility of the surge protector.
8 Foot Power Cord
The 8-foot power cord offers an extended reach from your desk to the nearest wall outlet. This extra length is especially useful in situations where the outlet may be situated at a distance from your workspace. It eliminates the need for using multiple extension cords, providing a direct and seamless power connection to the surge protector.
In shared office settings or co-working spaces, the 8-foot power cord enables easy power access, even if the nearest outlet is not within arm's reach. This convenience fosters collaboration and facilitates seamless connectivity for multiple users sharing a common workspace.
Worth Mentioning
The EMI/RFI noise filtering feature effectively protected against outside interference, ensuring a clean and uninterrupted power supply to plugged-in devices. The presence of a circuit breaker offered an additional layer of protection against overloads, enhancing the overall safety of the setup.
This Tripp Lite desk clamp surge protector also included a diagnostic LED, which served as a visual indicator of active surge protection. This simple yet effective feature provided peace of mind, offering assurance that the surge protector was in proper working condition.
The on/off switch integrated with a built-in circuit breaker was a thoughtful addition, allowing me to easily control the power flow and providing an extra layer of protection against overloads. This feature came in handy, especially when I wanted to cut off power to specific devices without unplugging them.
Pro Tips
If the edge of your desk is too thin to fit into the desk clamp, you can also place something in-between as a wedge. E.g. a packet of tissue paper or a small piece of cloth should do the trick. This will help prevent the desk clamp from swaying too much.
Specification Table
| | |
| --- | --- |
| Tripp Lite TLP648USBC | Specification Table |
| Dimensions | 5.3 x 2.7 x 5.2 inches [13.46 x 4.32 x 3.05 cm] |
| Net Weight | 1.72 pounds (0.78 kg) |
| No. AC Outlets | 6 |
| Power Cord Length | 8 ft |
| Joule Ratings | 1080 |
| USB Ports | 3 |
| Warranty | Lifetime Limited Warranty |
Who Should Buy It?
People who work in shared office spaces or co-working environments will appreciate the versatility of the desk clamp surge protector. Its spring-loaded clamp enables easy attachment to various desks without causing any damage, making it a perfect fit for dynamic workspaces where users frequently change locations.
In dorm rooms and student workspaces, where space is often limited, the Tripp Lite Surge Protector Desk Clamp shines as a space-saving and practical power management solution. The extended power cord ensures that students can position the surge protector wherever they need it without relying on limited nearby outlets.
Gamers with an array of electronic devices, including gaming consoles, streaming media players, laptops, and mobile devices, will appreciate its comprehensive surge protection for their gaming assets and its versatile charging capabilities. It offers peace of mind when powering expensive and sensitive electronics.
Who Should NOT Buy It?
While the surge protector's spring-loaded clamp accommodates desks up to 2.5 inches thick, if you have an exceptionally thick workbench or tabletop, the clamp might not provide a secure fit. In such cases, getting a normal surge protection power strip would be more appropriate.
For individuals or companies with extensive power requirements, such as data centers, server rooms, or professional AV setups, a more robust and specialized surge protection system might be necessary to handle the higher power loads and sensitive equipment.
Is The Price Reasonable?
It's important to consider the specific needs and requirements of your personal workspace and devices when evaluating the price. If the Tripp Lite desk clamp surge protector meets your power management needs, provides adequate protection for your valuable electronics, and offers the convenience of USB charging ports and desk clamp design, then the price can be considered justifiable. The lifetime limited warranty is definitely a factor worth considering.
Check Price
Minor Flaws – What to Expect
A minority of the buyers spoke about the challenges they have had when clamping the surge protection device to their desks. As I mentioned before, if your desk has a thin edge, do try to add something between to act as a wedge to help tighten the grip of the desk clamp.
Many buyers have mixed feeling about the USB-A ports but from what I can see, most of the time it is due to unrealistic expectations. Mishandling or manufacturing faults could also be the reason why some USB ports stopped working after a while.
Final Thoughts – Key Takeaways
The compact size and sturdy build of the surge protector added to its appeal, making it a practical and space-saving solution for both home and office environments. The high-quality construction and fire-resistant housing instilled confidence in its durability and longevity.
Whether for home or office use, this surge protector offers peace of mind (lifetime limited warranty) and streamlined functionality, making it an excellent addition to any workstation, gaming and entertainment setup.
All in all, if budget is not a constraint for you, and warranty, build quality and peace of mind are a priority for you, you might want to give this desk clamp surge protector a go and see if it fits your requirements.
Frequently Asked Questions
What is the maximum desk thickness for the clamp?
The spring-loaded clamp can accommodate desks or workbenches up to 2.5 inches thick.
Is the power cord pivoting and adjustable?
Yes, the 8-foot power cord comes with a NEMA 5-15P plug and is designed to pivot for optimal positioning near wall outlets.

Can I use this surge protector in a commercial office?
This surge protector is ideal for home and office electronics, including monitors, printers, routers, and more.

Does the surge protector have EMI/RFI noise filtering?
Yes, the surge protector provides EMI/RFI noise filtering, protecting connected devices from outside interference.

What happens if the surge protector is damaged by a surge?
Tripp Lite offers premium protection and will replace the surge protector if it's damaged by a surge, along with covering connected equipment.

Can I mount the surge protector on a glass desk?
The spring-loaded clamp is designed to attach to flat surfaces up to 2.5 inches thick. Mounting on a glass desk may not be recommended.