Affiliate Disclaimer: Some of the links on this site are affiliate links. This means we may earn a commission if you click on the link and make a purchase.
Last Updated on August 18, 2023 by Marc Edwards
These days, surge protection devices are no longer just super-sized, heavier versions of power strips.
They are the lifesavers for our prized electronics and appliances at home and in the office in times of trouble (power spikes, lightning, phantom loads, etc).
In this review post, I thought it would be most appropriate to focus solely on Belkin surge protectors – specifically those with superior quality, top-notch features, excellent ratings, and feedback.
Moreover, almost every one of our clients has heard of Belkin and 70% of them own at least one of the Belkin surge protectors at home or in the office.
Based on past records and reviews, I have rounded up 6 of the best Belkin surge protectors below which have good ratings and are in use by our home renovation clients.
6 Belkin Surge Protectors with Decent Price and Ratings
Belkin Surge Protectors
[1] Belkin BV112050-06 Surge Protector Review
This high-end 12-Outlet Belkin surge protector comes equipped with 2 USB charging ports and a whopping 3996 Joules of surge energy absorption capacity.
Besides that, it has a damage-resistant enclosure that is able to fend against fire, occasional dents, scratches, and rust.
There are also sliding covers on each socket to keep out debris and curious little fingers.
The feature we like most is the fact that it offers 3-in-1 surge protection for Ethernet devices (Internet and network routers, switches), Coaxial (cable and satellite) as well as telephone cables.
These sleek-looking Belkin surge protectors come designed with 6 outer layer sockets which are specially designed for big bulky plugs and transformers.
In our opinion, such thoughtful and intelligent design is probably what makes this Belkin model popular as a surge protection device.
If two USB-A ports are not sufficient for you, you will want to check out our top recommendation for surge protectors with USB-C ports.
[2] Belkin BE108230-06 Review
This 8 outlet 3550 joules surge protection device which comes with sliding safety covers are most ideal for domestic use, especially with little ones running around.
Its 4 widely-spaced outlets also make this surge protector an essential buy for offices that use equipment with large transformer plugs.
This Belkin BE108230-06 model that comes with a 6-foot power cord is able to safeguard most of your home electronics and office equipment from damaging power spikes with its ability to take on a maximum of 6,000v spike voltage.
And in case you are wondering, they do come with illuminated LEDs to help indicate proper grounding and protection for your devices.
If you are into gaming, this surge protector is definitely an ideal candidate to help shield your gaming PC and devices from getting fried during stormy weather.
[3] Belkin BP112230-08 Review

This 12-outlet Pivot-Plug Power Strip Surge Protector from Belkin comes packed with 4320 joules of energy absorption rating.
This means you can protect a wide variety of appliances and electronic devices at home and in the office.
This Belkin BP112230-08 model has 8 rotational outlets and 4 stationary ones which provide ultimate flexibility when it comes to connecting devices of all shapes and sizes.
Besides that, these Belkin surge protectors have widely-spaced pivoting outlets that are ready for older generation types of AC adapter blocks which are big and bulky in size. 
With a 14-gauge heavy-duty 8-foot long cord along with its space-saving design, you can easily reach far-flung and hard-to-reach AC outlets.
This surge protection device from Belkin has damage-resistant housing which means you can expect long-term durability.
Do expect this device to operate quietly in a corner of the room, thanks to its power filtration feature.
It will effectively block away electromagnetic interference (EMI) and radio frequency interference (RFI).
And like most surge protectors, BP112230-08 does come with coaxial, telephone, and fax protection and LED indicators. They are to ensure your devices are properly protected and the AC outlet that you plug into is properly grounded.
You may want to skip this model if you are technically savvy and are looking for surge protection devices that come with smart app control and offer timer features that can be programmed to power on and off our connected devices.
[4] Belkin F7C01008Q 8 Outlet Converse Switch Review
This 8-Outlet Conserve Switch Surge Protector is easily one of the more Eco-friendly ones you can get in the marketplace.
It comes with a wireless remote switch (battery included) that allows you to remotely power down devices.  This includes the standby power, which effectively eliminates any phantom loads.
Belkin F7C01008q is also perfect for protecting electronic gadgets against power transients in the office.
And if you have electronic devices and appliances like Internet routers and surveillance cameras that cannot be turned off, there are two "Always On" outlets to provide a continuous flow of AC power to such devices.
These power-saving surge protectors also feature a smart space-saving design along with a sliding outlet cover for safety purposes.
In addition to that, these 1000 joules surge protection devices also offer a built-in re-settable circuit breaker function.
And of course, the usual LED indicators for highlighting AC outlet grounding and device protection status.
If you are thinking of setting up an eco-friendly home, this is probably a must-buy item on your shopping list.
[5] Belkin SurgeMaster F9H710-06 7 Outlet Surge Protector Review

This 1060 joule Belkin SurgeMaster surge protector is the obvious choice for office use.
Equipped with surge protection for phone, fax and modem ports, it is the perfect surge protection device to be had on the tabletops of boardrooms and IT equipment rooms.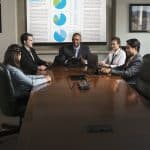 With 7 outlets to go around, never run out of power outlets again at your next office group meeting.
This is especially useful when there are very limited numbers of wall AC outlets inside meeting rooms.
This surge protector for laptop and computing devices are definitely a great addition to any home and office environment.
About Manufacturer's Warranties
Click here for more detailed warranty information.
[6]
Belkin SurgePlus 3-Outlet USB Surge Protector with Rotating Plug [BST300]
Thanks to Belkin SurgePlus's portable design, this lightweight surge protection device is the ideal travel companion whether you are onboard a plane or at a location with limited AC power outlets.
Besides protecting your connected devices, this Belkin surge protector also comes with a swiveling power plug that offers 4 locking positions. You will no longer have a problem charging your devices at awkwardly located tight-spaced A/C outlets.

This 918 joules surge protector safeguards your electronics against harmful power spikes, transients and voltage fluctuations, and more.
It comes with MOV (metal oxide varistors) to help absorb excessive electrical charges. BST300 comes with a pleasing exterior and robust housing to help weather internal circuitry against damages like fire, and impact.
This travel-friendly surge protector comes with 2 fast-charging USB ports to satisfy your power-hungry smartphones and tablets. 🙂
It does not matter where you are in the world, Belkin's SurgePlus BST300 will keep your devices protected and charged at the same time.
There you have it. These 6 Belkin surge protectors are cherry-picked especially for a wide range of usage and requirements.
When it comes to Belkin, always remember to contact their customer support when in doubt.
The warranty may be voided if you attempt to fix any issues yourself.
Moreover, you may end up causing in-repairable damage to the surge protection device.